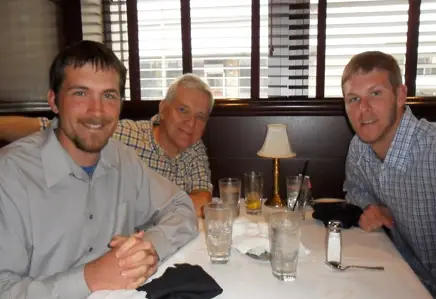 When the Chicago White Sox visited the Minnesota Twins last week, Chris Sale revisited his Northwoods League roots for a Northwoods League Foundation experience. The 22-year old left-hander allowed himself to be auctioned off at the Northwoods League Foundation Celebrity Poker Tournament in January where the winner and a guest got to enjoy lunch with Chis and the Twins vs. White Sox game that night.
The father and son tandem of Bob and Jesse Meehl bought the experience on the silent auction and were able to take part in the unique experience just days before Father's Day. Bob, the father, enjoyed the whole day but said the highlight was getting to meet and talk with Chris.
"He seems like a great guy, and he also seemed to enjoy our time together, not minding taking the time from his busy schedule," Bob explained. "His forthcoming answers to all of our questions were very interesting and often humorous. It was a great time!"
Chris Sale played for the La Crosse Loggers in 2008 and is the 2nd highest MLB Draft pick in Loggers history, going 13th overall to the White Sox in 2010. The southpaw was a 2008 NWL All-Star and is currently pitching in his second season for Chicago. Sale made his Major League debut last summer on August 4th, 2010 against the Baltimore Orioles, just two months after being drafted.
The Florida Gulf Coast standout continues to be the only member of the 2010 MLB Draft class to be in the Major Leagues. Sale is currently 2-0 with two saves in 26 innings of work in 2011. The 6'6" lefty is now 4-1 in his MLB career with a 3.28 ERA and six saves.