Forever an Express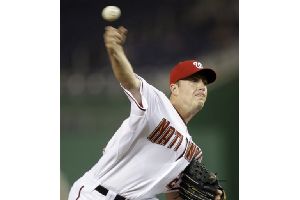 Pitcher Jordan Zimmermann of the Washington Nationals has become one of baseball's best pitchers.  But he will never forget his 2006 summer in Eau Claire.
By Nick Erickson, Media Relations – Eau Claire Express
Before the Eau Claire Express existed, Field Manager Dale Varsho was coaching a high school legion team in Marshfield, Wis., and in the summers of 2003 and 2004, an athlete from the nearby town of Auburndale was on his team.  It didn't take long for Varsho to find out what an incredible athlete this kid was.
The kid, named Jordan Zimmermann, was a three-sport star at Auburndale High School and was still deciding on what college sport he wanted to play.  Zimmermann ultimately chose baseball and attended the school closest to his hometown, the University of Wisconsin-Stevens Point.
Varsho kept close eyes on him in his first two years with the Pointers and after a breakout sophomore year with the Pointers, Varsho, who was now at the helm of the one-year old Express franchise out of the Northwood's League, decided he hadn't had enough of coaching the young phenom and recruited him to play in Eau Claire during the summer of 2006.
"During his sophomore season at Stevens Point, he had a really great year, and I wanted him to prove himself against the best competition in the Northwoods League," Varsho said.
Washington Nationals' fans can be thankful Varsho gave him that opportunity.  Seven years later, the current Washington right-hander has emerged as one of the best pitchers in Major League Baseball.
After helping guide the Nationals to their first-ever playoff appearance in Washington a year ago, Zimmerman has elevated his game and become statistically the best pitcher in the game.  He is currently tied for first in  all of baseball in wins so far in this 2013 season with nine.   He has become one of the most talked about players in the first half of this Major League season and could very well be representing the National League in the MLB All-Star Game this July.  But the first time he became noticed by the Majors was when he called Carson Park his home in 2006.
Jordan Zimmermann has emerged as one of the best pitchers in baseball after his hot start to 2013.  Photo courtesy of mlb.com
Familiarity is something that makes Zimmermann comfortable.  The owner of the Express at the time, Jeff Jones, had a son who was a teammate of his at Stevens Point.  He had a slew of high school buddies enrolled at the University of Wisconsin-Eau Claire.  Eau Claire was close to home.  And of course, he had already been coached by Varsho.  All of that added up to him donning the Express orange in the summer of 2006.
"That was a perfect fit," Zimmermann said.  "My family could come up whenever they wanted to watch, I knew Dale pretty well and he wanted me to come up there, so I knew it was the right decision."
And that summer, Zimmermann took the Express and the Eau Claire community on quite a ride. He collected four wins while setting Express single-season team records in both ERA (1.01) and strikeouts (92).   Varsho said he had all the qualities of a Major League pitcher.
"He was a true Major League that got stronger when the game continued," Varsho said.   "I remember to this day what really put him on the map with Major League scouts was when we were playing Duluth in Eau Claire and in the eighth inning he was still throwing 94 MPH."
Zimmermann said the Northwoods League was a huge stepping-stone to where he is now.  He learned how different it is to throw to a wooden bat instead of an aluminum one, and it was the first time the NCAA Division III athlete could throw to Division I athletes on a nightly basis.
"Two things came out of Eau Claire," Zimmermann said.  "I got to throw to wooden bats for the first time and learned that there's a lot smaller of a sweet spot and they're not going to get all of these cheap hits and also I was playing against Division I guys so the competition was a lot better.  I had a good year there and the scouts came to watch and everything seemed to happen after that."
When he got back to UW-Stevens Point that fall, his coach, Pat Bloom, immediately noticed the difference in his maturation.  He said the biggest thing he saw out of Zimmermann was not his increase in velocity or the way he approached hitters strategically, which he said he still had definitely improved upon, but the way he presented himself on the mound.
"Having faced the competition he faced in the Northwoods League and pitching to bigger crowds, you could just tell he was just much more comfortable in his own skin on the mound and it looked like there was nothing he couldn't handle," Bloom said.
"Obviously, he was getting a lot of attention that summer and into fall and he handled that very well and was very composed, and I credit a lot of that to him playing in the Northwoods League and for Eau Claire."
Zimmermann would go on to lead Stevens Point to the NCAA III College World Series and was drafted in the second round of the MLB Draft by the Nationals.  The rest, as they say, is history.
The Express organization and its fans have not forgotten about him.  He is the only former Express player in the MLB and many people in the Chippewa Valley region follow him closely.  The Express had Jordan Zimmermann Bobblehead Night in 2012, and he makes frequent appearances on Eau Claire news channels when he pitches.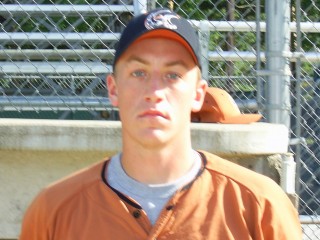 Zimmermann was the Express MVP in 2006 in his only year with the team.  He is the only former Express player in the big leagues.  Photo courtesy of the Eau Claire Express.
The support he has received from the Eau Claire area has not gone unnoticed as he said he is grateful for his time in the community, from his host family, Scott and Julie Burkart, to the fans that pack Carson Park on a nightly basis.
"It's great," he said.  "It's nice that people still talk about me back there.  I think it helps that I'm a kid from Wisconsin and not far away.  It's definitely good to see."
It seems unlikely that a small-town kid from Auburndale, Wisconsin would wind up being an All-Star caliber professional athlete.  Zimmermann fits the mold of the stereotypical Wisconsin resident.  Varsho said he is a quiet, reserved person who simply goes about his business, and Zimmermann said one of his favorite things about Eau Claire was being able to go fishing on the off days with his buddies.
When people go to Express games for the first time, very often, the first question is, "what is the level of baseball?"  The Northwoods League is a collegiate summer league for college players who are hoping to get drafted.  While some players indeed go undrafted, others get noticed and reach their dream.  And as the former Express pitcher has shown, it doesn't matter where you come from or what school you go to. Anything is possible, and that is his message to current Express and NWL players.
"I'd say to keep your ears open and try and take in as much as you can," Zimmermann said.  "Just keep working hard.  That's the only thing you can do and everything else will take care of itself.  Hopefully a lot more guys get drafted out of the Northwoods League."
Both Varsho and Bloom said they knew Zimmermann had talent, but that it is so hard to tell right away where a player will take his career.  Zimmermann has taken his to the highest level.  And it blossomed on the mound of Carson Park.