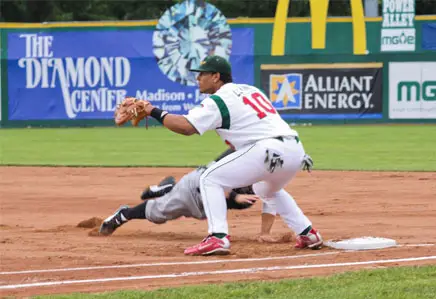 Wednesday's Recap
Thunder Bay 8, Brainerd 3
Thunder Bay jumped out to a 7-0 lead and cruised to victory at an 8-3 clip against the Brainerd Lakes Area Lunkers. Thunder Bay pounded out 15 hits and were led by Ryan Court (Illinois State) who was 3-for-4 with two runs scored and a RBI. While Border Cats first basemen, Tyler Wosleger (Fairfield), was 3-for-5 with two runs scored and three RBI. Thunder Bay's Eric Brown (British Columbia) earned the win after throwing 5.0 innings of two hit baseball. Lunkers starter Brian Russell (Davidson) took the loss while only lasting 2.0 innings and giving up seven runs.
Battle Creek, La Crosse
It took the Battle Creek Bombers and La Crosse Loggers 13 innings to determine a winner on Wednesday night in Battle Creek. However, the Bombers didn't give up and scored on a hit-by-pitch in the 13th. Greg Garcia was hit by a Ryan Behmanesh (Dallas Baptist) pitch which scored Beau Didier (Louisiana State) who had doubled earlier in the inning for the win. Battle Creek reliever Chad Jasman (Kellogg CC) earned the win after throwing 1.0 inning of shutout baseball.
Mankato 9, Willmar 7
It took ten innings to determine to outcome of the Mankato/Willmar game on Wednesday night at Bill Taunton Stadium. The MoonDogs took the game by a score of 9-7 after scoring two runs in the top of the tenth. The MoonDogs Danny Miller (Minnesota State Mankato) hit his third homerun of the season while going 1-for-3 with three runs scored, two RBI and two walks. Willmar's Sean Dwyer (Florida Gulf Coast) was 3-for-5 with two runs scored in the loss. Mankato's Jonathan Montoya earned the win in relief after throwing the final 3.0 innings of two hit baseball.
Rochester, Duluth
The Rochester Honkers out-hit the Duluth Huskies 14-8, but lost the game 8-5 at Mayo Field in Rochester. The Huskies Cody Asche was 2-for-3 with a homerun, two runs scored and three RBI. Phillip Menou (Louisiana Tech) also homered and had four RBI. Rochester had five players with multi-hit games, but couldn't get the clutch hit. Davy Wright (Texas Christian) was a perfect 3-for-3 with two walks. Steven Ewing earned the win while Austin Gaines (Florida Gulf Coast) earned the save. The Honkers Gabe Feldman (Wake Forest) threw 5.0 while giving up six runs and taking the loss.
St. Cloud 7, Alexandria 4
The St. Cloud River Bats used a three run first inning and never looked back as they beat the Alexandria Beetles 7-4 in St. Cloud. St. Cloud's Andrew Aplin (Arizona State) was 2-for-4 in his first game of the season with a homerun, two runs scored and three RBI. Steve Nyistzor (Rutgers) continued his hot hitting as he went 3-for-4 with a run scored and a RBI. River Bats starter Jason Van Skike (Indiana State) earned the win throwing 6.0 innings of four hit baseball. Beetles starter Pedro Ramos (Lewis Clark State) took the loss throwing 4.1 innings and giving up six earned runs.
Madison 11, Wisconsin Rapids 5
Madison scored in six of nine innings Wednesday night and beat the Wisconsin Rapids Rafters by a score of 11-5 at the 'Duck Pond'. Madison had six players with multi-hit games and were led by Rafael Lopez (Florida State) who is in his second game with the team since playing in the NCAA College World Series. Lopez had a huge game in the nine-hole while he was 3-for-5 with his first 2010 homerun, two runs scored and five RBI. Mallards Harold Riggins (North Carolina State) had three hits with three RBI. Mallards Tyler Jones (Madison) earned the win in relief after throwing 5.0 innings of one run baseball. Cody Koback went 2-for-4 for the Rafters with two runs scored and two RBI.
Waterloo 4, Wisconsin 1
The Waterloo Bucks got a strong performance from Billy Barrett (Illinois) who threw 6.0 innings of six hit one run baseball. The Bucks took the game 4-1 in front of 1991 fans at Athletic Park. Bucks designated hitter Pat Stover (Santa Clara) provided the offense for the Bucks as he went 4-for-5 with two runs scored.
Eau Claire, Green Bay
The Green Bay Bullfrogs were starting a series with the Eau Claire Express to see who would win the first half south division. The first game of the two game series was postponed due to rain. The game was halted in the bottom of the second inning with the score 0-0. This game will resume where it left off at 5:35 P.M. tomorrow.