Field Manager Scott Laverty to Return in 2011
September 8, 2010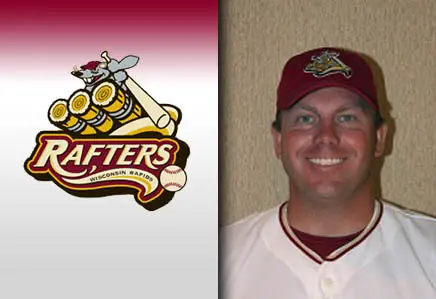 Wisconsin Rapids Rafters officials announced today that field manager Scott Laverty will return in 2011 for a second season at the helm. Laverty has been the head coach at the University of Redlands since June of 1999. In his time with Redlands he has helped the Bulldogs climb to the top of the conference. He led the Bulldogs to a conference championship in 2006 and recorded his 200th win with the club on March 22nd, 2009.
Before joining the Rafters this summer, Laverty had spent the previous two summers coaching the Cheyenne Grizzlies of the Mountain Collegiate Baseball League (MCBL). The MCBL is also a summer collegiate wood bat league that is similar to the Northwoods League. His leadership took the Grizzlies to their best record in franchise history as they won the MCBL regular-season championship in 2009.
Laverty has also served as a hitting and third base coach for the Evansville Otters in the independent Frontier League. As a player, he was an All-West Regional shortstop at UC Riverside and appeared in the 1994 NCAA Division II World Series.
After leading the Rafters to a 20-50 record in the team's inaugural season, Laverty is eager to build on the team's first year and ensure the Rafters remain a positive influence in the community.
"I am extremely excited to be returning to manage the Rafters," said Laverty. "Wisconsin Rapids is a tremendous community and I am proud that I will get the opportunity to once again call it home for the summer. I look forward to doing my part to make the Rafters second season an even bigger success on and off the field."
Laverty received his bachelor's degree in Business Administration from UC Riverside and his master's in Education from Cal Baptist University. He is part of the American Baseball Coaches Association and resides in Corona, CA.