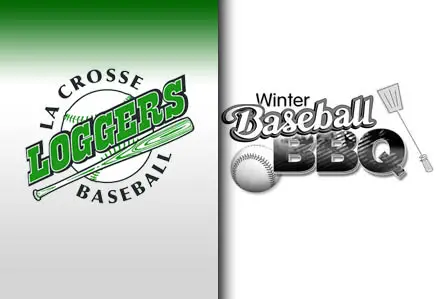 The La Crosse Loggers baseball club announced today that just over $70,000 was raised from their 9th Annual Winter Baseball BBQ that took place at the La Crosse Center South Hall on January 27. All of that money has been given to UW-L baseball in an effort to help preserve the program.
"We're proud to be associated with the La Crosse Loggers, Kwik Trip and the Friends of Baseball at UW-L Committee," exclaimed UW-L head baseball coach Chris Schwartz. "We feel humbled by the support we've received in the past few years. This event was the climax of that effort and we wouldn't be here if not for the support of these parties."
Massive state budget cuts had forced the University to call for the ending of the baseball program at the completion of the 2008-09 school year before anonymous donors and fundraising efforts garnered enough support to keep the sport alive for five years. The goal of the Loggers 9th Annual Winter Baseball BBQ was to help raise enough funds to keep that initiative alive and going for many years to come, but the work is not yet complete.
"It was really a night to remember and the efforts of many made it possible," said Loggers general manager Chris Goodell. "Thank you to Kwik Trip for spear-heading this event as well as the numerous sponsors and fans that attended. La Crosse continues to be a baseball-crazy area as evidenced by the amount of people in attendance. This kind of support is encouraging."
The hot stove-style event, which saw just over 1,000 fans attend, was highlighted by Hall of Famers Robin Yount and Paul Molitor as well as former Milwaukee Brewer teammates Jim Gantner and Jerry Augustine. La Crosse area natives Damian Miller, George Williams, Tony Ghelfi, Everett Johnson, Chuck Hockenberry, Dolly Ozburn and Louise Sauer were also honored.
This year's event was a collaboration between the Loggers, Kwik Trip and the Friends of
Baseball at UW-L committee that worked together to put the event on.