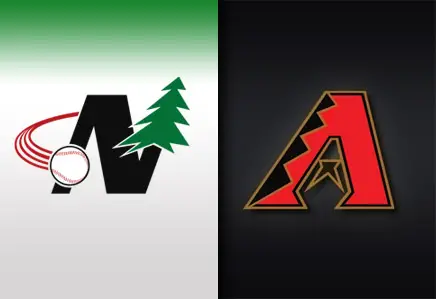 The Arizona Diamondbacks of the National League West intend to improve on a dismal 2010 that featured the 2nd worst record in the National League. The Diamondbacks made significant off-season moves both on and off the field. Kirk Gibson was named the Arizona manager in July and J.J. Putz and Xavier Nady were added to provide veteran leadership to the 2011 squad. The off-season additions are expected to make the Diamondbacks competitive in 2011.
Former Northwoods League player Konrad Schmidt is in Spring Training camp with the Diamondbacks. Konrad Schmidt is currently a member of the 40-man roster and listed as the 4th string catcher.
Konrad Schmidt played the 2003 and 2005 season with the St. Cloud River Bats before making his Major League debut on September 13th of 2010. The former Arizona Wildcat and Nevada-Reno Wolfpack catcher spent the majority of 2010 with the Mobile Bay Bears (Double-A) of the Southern League before being called up to the Majors. Schmidt hit .315 in nearly 400 at-bats. He displayed great powers numbers as he had 11 home runs, 30 doubles and a slugging percentage of .490. Schmidt's impressive 2010 season landed him in the Arizona Fall League which is a league for the top 180 prospects in the Major Leagues.
Also in camp with the Diamondbacks is former Alexandria Beetle pitcher Bryan Woodall. Woodall pitched with the Beetles in 2006 before being drafted in the 21st round by Arizona. The right handed pitcher was a teammate of Schmidt with the Mobile Bay Bears and also spent time in Single-A with the Visalia Rawhide of the California League. He ended 2010 with a 6-7 record in 60.0 plus innings. Woodall was also a teammate of Schmidt in the Arizona Fall League.
Former Arizona Diamondback, P.J. Pilittere was a 13th round pick by the New York Yankees in 2004 but spent time in the Northwoods League with Mankato in 2001. The California native has spent the past seven season the Minor Leagues and hit .357 in 2010. Pilittere will not be in camp in 2011 as he decided to end his playing career, but stay in baseball. Pilittere will coach at his alma mater, Cal State Fullerton, as the volunteer assistant.
Follow Konrad Schmidt has he prepares to split time at Major League level, Bryan Woodall in his pursuit of the Major Leagues and also P.J. Pilittere as he helps coach the always dominant Cal State Fullerton Titans.