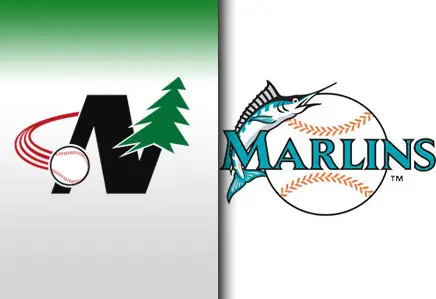 The Florida Marlins became a Major League franchise in 1993 and are currently a member of the National League East. The Marlins have only made the MLB postseason twice, but have been very effective both times as they were crowned World Series Champions in 1997 and 2003. The Marlins, managed by Edwin Rodriguez, intend to compete with the Philadelphia Phillies and Atlanta Braves in the NL East in 2011.
The Marlins currently have 17 former NWL players in their Spring Training camp. Pitchers Evan Reed and Dustin Richardson are listed on the 40-man roster while Dan Jennings is a non-roster invite.
Evan Reed was drafted by the Texas Rangers in the 3rd round of the 2007 MLB Draft after a successful playing career at Cal Poly San Luis Obispo. The right-handed pitcher has pitched four seasons in the Minor Leagues with a career 14-14 record in 113 appearances. Reed was a member of the Waterloo Bucks in 2005 and made one appearance at the Major League level this past season. Reed is currently a member of the Marlins 40-man roster.
Another former NWL pitcher on the 40-man roster for the Marlins is left-handed pitcher Dustin Richardson. Richardson played for the Rochester Honkers in the summer of 2004 on his summer break from Texas Tech University. The 6'5'' 195-pound Newton, KS native was drafted by the Boston Red Sox in the 5th round of the 2006 MLB Draft and has played the past four years in the Red Sox organization. Richardson made his Major League debut in 2009, but appeared in 26 games for the Red Sox in 2010. Richardson was traded from the Red Sox to the Marlins for Andrew Miller the 2006 6th overall pick.
Daniel Jennings missed playing with Evan Reed of the Waterloo Bucks by one season, but now has an opportunity to be his teammate with the Marlins. Jennings played for the Bucks in 2006 and 2007 and earned NWL All-Star recognition in 2007. The former 9th round pick of the Marlins has an impressive 2010 with the Jacksonville Suns (Double-A) of the Southern League as he posted a 4-2 record with a 2.56 earned run average. Jennings is currently sporting a 3.00 ERA with the Marlins this spring while opponents are hitting a paltry .182.