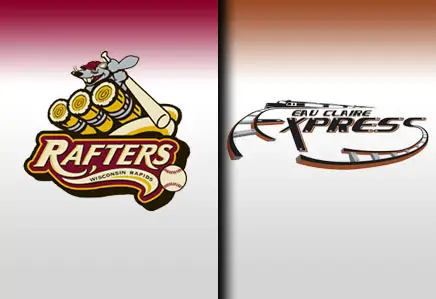 The Wisconsin Rapids Rafters and Eau Claire Express will provide fans an early taste of Northwoods League baseball as they are scheduled to compete in a May 31st exhibition game at Jack Hackman Field in Marshfield. The gates to the 7 inning, pre-season contest will open at 6:35 pm with the first pitch slated for 7:35 pm.
Tickets to the pre-season event can be purchased through the Gary Varsho Baseball League or the Marshfield Chaparrals by contacting Michael Steinwagner at (715) 389-2806.
Tickets can also be purchased by visiting www.raftersbaseball.com and clicking on the Groups tab on the top menu bar. You can then enter the group password (GVBaseball) and follow the instructions given to select your tickets. There is a $1.50/ticket convenience fee when ordering online. Two dollars of every ticket will go to support the Gary Varsho Baseball League. Food and beverage for the night will be handled by the Chaparrals and proceeds will benefit Marshfield area baseball teams.
The Northwoods League previously had preseason exhibition games in Marshall, MN, Bismarck, ND and against the Swedish National Team. The exhibition contest is being made possible by the Marshfield Clinic. Stay tuned for more details on this exciting pre-season experience as the event draws closer.