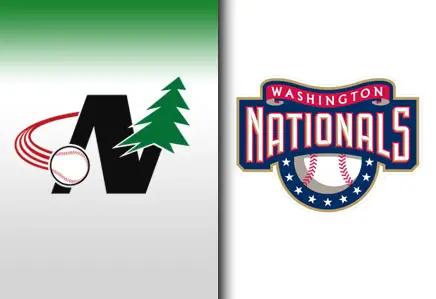 The Washington Nationals have more hype surrounding Spring Training camp than any team that finished under .500 in the past few years. The Nationals hype comes from former 1st overall picks Stephen Strasburg and Bryce Harper, $126 million off-season acquisition Jayson Werth, 'Web-Gem' extraordinaire Ryan Zimmerman, and the addition of the American League's top catching prospect, Wilson Ramos.
The Nationals finished 28 games behind National League East champion Philadelphia, but have a rare combination of young talent and veteran leadership in 2011. Washington will be without Stephen Strasburg for 2011 due to Tommy John surgery, but have four effective arms behind ace Livan Hernandez. Two of those four projected starting pitchers, Tom Gorzelanny and Jordan Zimmermann, spent time in the Northwoods League.
Tom Gorzelanny played for the St. Cloud River Bats in 2002 and was drafted by the Pittsburgh Pirates in the summer of 2003 as the 45th overall pick. The left-handed pitcher is expected to be the Nationals number 5 starting pitcher, according to Manager Jim Riggleman, in 2011 after being a Chicago Cub mid-rotation starter in 2010. The Evergreen Park, IL native made his Major League debut in 2005 and has made stops in Pittsburgh, Chicago, and Washington. Gorzelanny has a career 36-37 record in 558.0 innings pitched while sporting a 4.68 earned run average. Gorzelanny is currently 0-1 in Spring Training with a 3.97 earned run average in 11.1 innings pitched.
Another familiar face in the Nationals pitching rotation is Auburndale, WI native Jordan Zimmermann. Zimmermann was a University of Wisconsin-Stevens Point standout and played for the Eau Claire Express in 2006 while being named a regular and post-season All-Star. The 6'2'' right-handed pitcher has a career 4-7 MLB record, but is expected to be a mid-rotation starter for the Nationals. Zimmermann earned his 1st Major League win during his MLB debut against the Atlanta Braves in April of 2009. Baseball America had Zimmermann ranked as the Nationals' best prospect going into the 2009 MLB season. Zimmermann is currently 1-1 in Spring Training with a 3.60 earned run average in 15.0 innings pitched.
Other NWL Alumni to watch in the Washington Nationals Spring Training camp – Joe Bisenius
Joe Bisenius was a member of the Duluth Huskies in 2003 before getting drafted by the Philadelphia Phillies in 2004 in the 12th round. Bisenius is a 6'5'' right-handed pitcher that signed a Minor League deal with the Nationals in May of 2010. The Sioux City, IA native was named Iowa High School Player of the Year in 2001, 2003 Northwoods League All-Star, and 2003 'Top 40' Junior College Prospect by Baseball America.