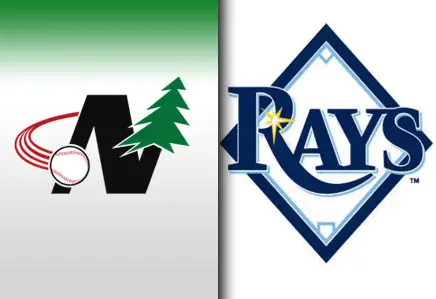 The Tampa Bay Rays were one of the most active Major League teams this off-season as they lost Carl Crawford and Carlos Pena to free agency and traded Jason Bartlett and Matt Garza. Although key pieces of the 2010 American League East Champions are gone, they added superstars Manny Ramirez, Johnny Damon and nine Minor League prospects in trades. The Rays look to compete in the always competitive American League East
The Rays Ben Zobrist is one of the most recognizable former NWL players in the MLB and is expected to start in right field for Tampa Bay. Also in the Rays organization is former Eau Claire Express catcher Nevin Ashley.
Zobrist was a member of the Wisconsin Woodchucks in 2003 before being a 6th round pick of the Houston Astros in 2004. The versatile Zobrist has played various positions at the MLB level, but is the projected starting right fielder for the Rays in 2011. The Eureka, IL native has played the past five seasons with the Rays and has a career .253 batting average and was a 2009 American League All-Star after hitting .297 with 91 RBI's.
The switch hitter was named Wisconsin Woodchucks Most Valuable Player in 2003 and is currently playing very well in Port Charlotte, FL with the Rays. Zobrist is hitting .325 in nearly 40 at-bats and is in the top three on the team in doubles, home runs, and slugging percentage.
Nevin Ashley played for the Eau Claire Express in 2006 and has seen limited playing time at the Major League level the past two seasons. The 6'1'' catcher was drafted by the Rays in the 6th round of the 2006 MLB Draft after attending Indiana State. Ashley has a career .259 Minor League Baseball batting average and spent the majority of 2010 with the Montgomery Biscuits (Double-A) of the Southern League.
Ashley has seen limited playing time this Spring Training with the Rays as he only has seven at-bats. However, Ashley could see more time at the Major League level as John Jaso recently was injured and backup Kelly Shoppach is nearing the end of his career.
Follow these former NWL stars this season with the Rays who have the 21st highest payroll ($72 million) in baseball. The Rays will look to compete with the two teams with baseball's highest payrolls, the Yankees ($206 million) and the Red Sox ($162 million).