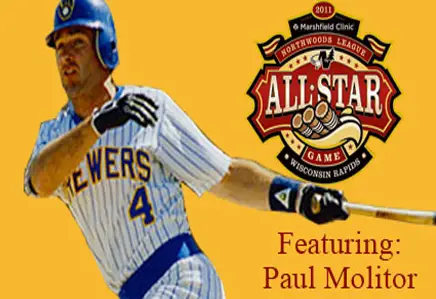 The 2011 Marshfield Clinic Northwoods League All-Star Game will feature former Milwaukee Brewers great and Major League Baseball Hall of Famer Paul Molitor at Historic Witter Field on Monday, July 18th in Wisconsin Rapids.
This will be a return trip to Historic Witter Field for Molitor, who played in two series against the Midwest League's Wisconsin Rapids Twins in 1977, while a member of the Burlington Bees in his only season in the minor leagues.
Molitor will be available for autographs for a limited time when the gates open at 5:30 p.m. for the July 18th Marshfield Clinic Northwoods League All-Star Game this summer. All fans that have purchased season tickets or 9 Game Packs* to the game will be ensured first priority for autographs from Molitor. Already have a 9 Game Package B? This is okay! For a limited time you can purchase the All-You-Can-Eat-and-Drink ticket option for the All-Star game for just $9.89.
Molitor, who was inducted into the Major League Baseball Hall of Fame in 2004, played for the Brewers for 15 seasons (1978 to 1992) and was a 5-time All-Star selection during that span. Although the Brewers magical 1982 run at a franchise-first World Series title came a few outs short in a runner-up finish to the St. Louis Cardinals, Molitor did his part by batting .355 (11-for-31), including a five-hit performance in game one of the best-of-seven series.
Molitor also attracted national media attention during his 39-game hitting streak in 1987, which ended with him standing in the on-deck circle during a game-ending hit by teammate Rick Manning. The streak continues to stand as the fifth-longest in modern-day baseball history, and remains the longest since Pete Rose's 44-game hit streak in 1978. The Brewers retired Molitor's uniform number 4 on June 11, 1999.
Molitor signed with the Toronto Blue Jays as a free agent in 1992 and helped lead the team to a World Series title the following year. After that final six-game series, he was named MVP for batting .500 (12-for-24) and became the first player in World Series history to have at least two home runs, two doubles, and two triples in one series.
Molitor concluded his career by playing for the Minnesota Twins for three seasons (1996-1998), where he acquired his 3,000th hit on September 6, 1996. He remains the only player in Major League history to reach that milestone with a triple.
His lifetime statistics include 2,683 games played, 1,782 runs scored, 3,319 hits, 234 home runs, 1,307 RBI, a .306 batting average, and 504 stolen bases. His 3,319 hits rank him ninth all-time. In addition, he batted .368 in 5 postseason series, and was a seven-time All-Star. Molitor recorded these statistics while missing nearly 500 games due to various injuries throughout his career.
Molitor is one of four players in major league history with at least 3,000 hits, a .300 lifetime batting average, and 500 stolen bases. The other three are Ty Cobb, Honus Wagner, and Eddie Collins, none of whom played the game beyond 1930. He is the only player ever to accomplish those feats and hit at least 200 home runs.