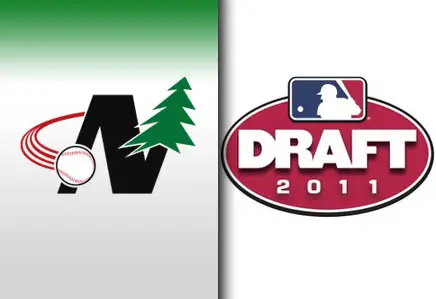 Madison Boer, formerly of the La Crosse Loggers, was selected as the 87th overall pick in the 2011 MLB Draft. Boer, who was drafted by the Twins, was 4-1 last season in La Crosse and boasted an impressive 0.89 earned run average.
Former Waterloo Buck, Lenny Linsky, was taken by the Tampa Bay Rays two picks after Boer. Zeke DeVoss of the Duluth Huskies was also taken in the top 100 picks as the Chicago Cubs drafted him as the 98th overall pick.
The Baltimore Orioles selected Kyle Simon of the La Crosse Loggers in the 4th round, 125th overall. Also, selected in the 4th round is hard throwing righty J.R.Graham of the Madison Mallards. The Atlanta Braves with the 146th overall pick selected Graham. Cody Asche of the Duluth Huskies rounded out the 4th round as the Philadelphia Phillies took the 3rd basemen.
The 6th round saw infielder Brandon Meredith of the Loggers selected by the Houston Astros as well as 2010 All-Stars Marcus Semien of the Alexandria Beetles and Kyle Gaedele of the Mallards with the 201st and 203rd picks respectively.
Cole Frenzel of the Loggers and Ryan Rieger of the Waterloo Bucks were selected on back-to-back picks in the 7th round. The New York Mets with the 222nd pick took Frenzel while the Florida Marlins selected Rieger at 223. 2010 All-Star Harold Riggins of the Mallards was also taken in the 7th round by the Colorado Rockies.
Round 8 saw pitcher Logan Odom of the Mankato MoonDogs picked by the Los Angeles Angels of Anaheim. 2010 the Minnesota Twins selected NWL Pitcher of the Year, Jason Wheeler, with the 268th pick in the MLB Draft.
Jordan Smith a Willmar native and Willmar Stinger was selected in the 9th round by the Cleveland Indians.
Visit twitter.com/nwlbaseball for up to date news on former NWL alumni or check www.northwoodsleague.com later tonight as Day 2 of the MLB Draft concludes.