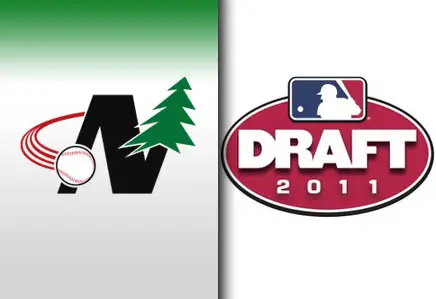 Various Northwoods League alums saw their names called in the 1st two days of the Major League Draft. Chris Reed was the 1st former NWL player taken in the MLB Draft. The Northwoods had nine players taken in the 1st five rounds of the 2011 MLB Draft.
The 2nd former NWL player chosen was catcher John Hicks of Virginia. Hicks who played for the Madison Mallards in 2009 was drafted in the 4th round with the 123rd overall pick.
The 4th round saw six former NWL players taken as Hicks and five other players were selected. Pitchers Kyle Simon (Arizona/La Crosse), J.R.Graham (Santa Clara/Madison), and Matt Summers (Cal-Irvine/St. Cloud) were taken with the 125th, 146th, and 148th picks respectively.
Two other position players were selected in the 4th round besides catcher John Hicks. Nicholas Ramirez (Cal State Fullerton/Rochester) was selected by the Milwaukee Brewers with the 131st pick. 2010 NWL All-Star Cody Asche (Nebraska/Duluth) was selected by the Philadelphia Phillies with the 151st overall pick.
Two players were selected in the 5th round as Scott McGough (Oregon/Rochester) and Chris Marlowe's (Oklahoma State/Thunder Bay) names were called. McGough, a right-handed pitcher, was selected by the Los Angeles Dodgers. Marlow, also a right-handed pitcher, was selected by the San Fransisco Giants with the 177th pick.
Other notable players taken in the top-10 rounds were:
Name, NWL Team, MLB Team, Round, Pick
Marcus Semien, Alexandria, Chicago White Sox, 6,201
Kyle Gaedele, Madison, San Diego, 6, 203
Harold Riggins, Madison, Colorado, 7, 228
Logan Odom, Mankato, LA Angels, 8, 255
Jason Wheeler, St. Cloud, Minnesota, 8, 268
Jordan Smith, Willmar, Cleveland, 9, 278
Follow twitter.com/nwlbaseball for all of your current draft news and check www.northwoodsleague.com later tonight as the 2011 MLB Draft culminates.
The Northwoods League plays more games than, draws more fans than, and plays in venues superior to any Summer Collegiate Baseball League in North America. The NWL's 18th season is currently underway.