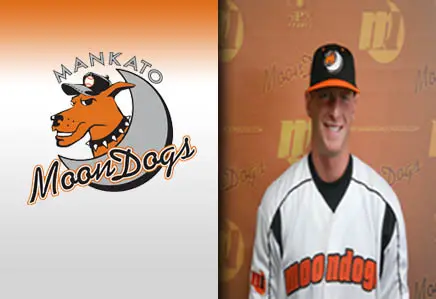 (Rochester Minn.) Mankato MoonDog outfielder Zach Borenstein was recently selected in the Major League Baseball First-Year Players Draft by the Los Angeles Angels. The Eastern Illinois standout was taken in the 23rd round with the 705th overall pick.
Borenstein has decided to sign with the Angels and will finish the NWL season with a .359 average in nine games. The Buffalo Grove, Ill., native had five doubles, two home runs, and eight RBIs in his short stay in Mankato.
Collegiately, the left-handed hitting outfielder paced the EIU offense this season as he posted a team-best .349 batting average, 68 hits and 38 runs. He also had 29 RBIs, 13 doubles, seven home runs and nine stolen bases on theyear.
Borenstein will join former Mankato MoonDogs stars Jack Hannahan (2001) of the Cleveland Indians, New York Yankee Curtis Granderson (1999), recent San Francisco Giant call-up Brandon Crawford (2005), and many more MoonDogs in professional baseball.