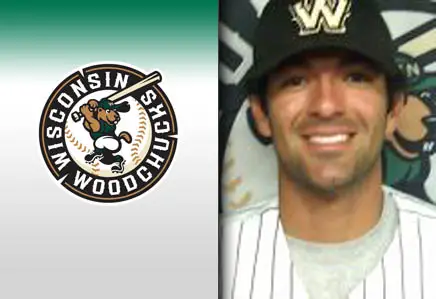 As most NWL teams have played 12 games so far in 2011, offensive leaders are starting to set themselves apart. Carlos Escobar (Nevada-Reno) is leading the Northwoods League in various offensive categories. The 6'3'' catcher is currently leading the league in batting average, (.467), slugging percentage (.700), on-base plus (.529) and doubles (7).
Garrett Custons (Air Force) and Steven Brault (Regis) are close behind Escobar in batting average. Custons, a 5'10' catcher, is hitting .404 and recently had a 6-for-6 night for the Eau Claire Express. Brault is a two-way player, but is excelling at the plate in the NWL in 2011. The 6'1'' lefty is hitting .392 in 51 at-bats.
Although many NWL players struggle with the switch from metal bats to wood bats Kyle Peterson (Eastern Michigan) of the Wisconsin Rapids is having no problems with the switch. The 6'0'' catcher already has five long-balls in 42 at-bats. With five home runs, Peterson is well on his way to eclipsing the 2010 home run leaders. Mark Threlkeld (Louisiana Tech) and Scott Schebler (Des Moines CC) each finished the 2010 season with ten home runs apiece. Cameron Flynn (Kentucky) of the Loggers and Jimmie Koch (Florida Tech) of the Honkers are both nipping at Peterson's heels with three homers apiece.
Also hitting multiple extra-base hits are Carlos Escobar, Garrett Custons, Corey LaVier (San Diego) and Dan Olinger (Minnesota). Batting average leaders Escobar and Custons each have seven doubles on the season. La Crosse Logger Corey LaVier and Brainerd Lakes Area Lunker Dan Olinger each have six two-baggers.
Speedsters Evan Frazar (Galveston) of the Mankato MoonDogs already has an impressive 17 stolen bases while hitting under .200. Frazar has five multi steal games and even has a four stolen base game in 2011. The 27th round pick of the Cleveland Indians has a large lead in the steals category on Anthony Hincy (Doane) of the Stingers and Matt Beyer (Wisconsin Whitewater) of the Honkers who each have nine stolen bases.
The Northwoods League plays more games than, draws more fans than, and plays in venues superior to any Summer Collegiate Baseball League in North America.