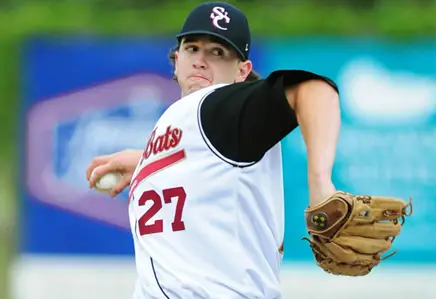 Mankato 7, Brainerd 2
The MoonDogs used a four run 9th inning to take down Brainerd at Stewart C. Mills Stadium. Mankato only had five hits on the night, but made them count. Chris Ross (Montevallo) hit a pinch-hit two run double in the 9th to cap the victory for Mankato. Kyle Richter (USC) had a nice game on the mound as he threw 6.0 innings of four hit baseball to earn his 1st win of the 2011 season. Nick Hamilton (Kent State) and Dan Olinger (Minnesota) each had two his in the loss for Brainerd.
La Crosse 4, Green Bay 2
Brando Tessar and Dan Child (Oregon State) combined to throw a four hitter against the Green Bay Bullfrogs on Saturday. Tessar improved his pitching record to 2-0 while Child picked up his 1st save of 2011. Cameron Flynn (Kentucky) was 2-for-3 with two runs scored for the Loggers. Mike Reeves (Florida Gulf Coast) and Thomas McCarthy (Kentucky) each had two hits for the Loggers. Tim Giel (Columbia) took the loss for the Bullfrogs as he gave up three runs in 4.0 innings.
Madison 7, Wisconsin Rapids 5
The Madison Mallards edged out a victory at home against the Wisconsin Rapids Rafters thanks to a nice night at the plate from Jordan Owens (Tennessee-Martin). The Mallards right fielder was 3-for-4 on the night with two home runs, four RBIs and two runs scored to pace the offense. The Rafters Brandon Hohl (Illinois) was 3-for-4 with three RBIs in the loss.
St. Cloud 4, Thunder Bay 1
Steven Swift (Diablo Valley) stole the show Saturday night for the St. Cloud River Bats. The 5'10'' starting pitcher threw a two-hit 8.0 inning gem to silence the Border Cats. Travis Unthank (Central Missouri) threw the final 1.0 inning to register his 2nd save of the season. Andy Henkemeyer (Minnesota), Jeremy Banks (Youngstown State), and Connor Eppard (Western Nevada) each had two hits for the River Bats in the win.
Battle Creek 7, Waterloo 3
Battle Creek's Dan Dispensa (Western Illinois) and Jordan Dean (Central Michigan) helped the Bombers to victory Saturday night. Dispensa was 2-for-5 with two RBIs at the plate and Dean also drove in two runs to help the cause. Davis Hendrickson (Illinois) had three hits and a RBI in the loss for Waterloo.
Willmar 7, Duluth 3
The Stingers and Huskies were tied at 3-3 going into the bottom of the 6th inning, but the Stingers put up three runs to break the tie and eventually win 7-3. Willmar's Jake Stinnett (Maryland) had two RBIs in the win while Anthony Hincy (Doane) and Pat Stover (Santa Clara) each had two his in the win for Willmar. Mike Bisenius (Wayne State) had three hits in the Huskies loss.
Wisconsin, Eau Claire
Suspended due to rain.
Rochester, Alexandria
Suspended due to rain with the Honkers leading 3-0.