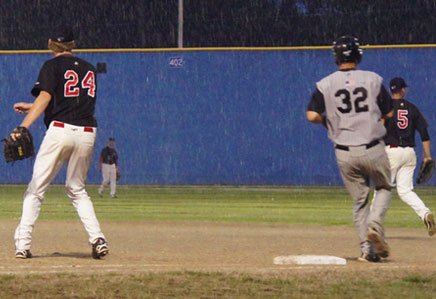 Battle Creek 5, La Crosse 0 (Game 1)
Alex Loftin (Akron) threw five shut out innings and Daniel Rockett (Texas-San Antonio) hit his 6th home run as the Bombers blanked the Loggers in game one of a doubleheader in Battle Creek. Rockett's 2-run blast came in the 1st inning while Ryne Otis (Taylor) drove in two runs with a double in the 5th inning. Loftin struck out four and allowed four hits and no walks to improve his record to 2-2 on the season. Logger first baseman Corey LeVier (San Diego) was the only batter in the game to get more than one hit as he finished 2-for-3.
La Crosse 2, Battle Creek 0 (Suspened in 1st, Game 2)
The second game of the doubleheader barely got started before the rains in Battle Creek proved to be too much for the C.O. Brown Stadium field. This game will resume at 11:05 A.M. Eastern time on Wednesday morning and be followed by two other 7-inning games. It will be a full day of baseball for the Loggers and Bombers on their final scheduled meeting of the 2011 regular season.
Eau Claire 6, Waterloo 3
Consecutive RBI singles by Parker Hipp (New Mexico State), Josh Scheffert (Nebraska), and DeMarcus Tidwell (Southern Polytechnic) in the bottom of the 6th inning brought the Express from behind and helped them to the 6-3 victory. Brad Kuntz (Baylor) earned the win with six solid innings on the mound to improve his record to 4-1. He fanned six and walked two while allowing two runs, one earned. Cameron Perkins (Purdue) was 2-for-5 with an RBI and a run scored in the loss for the Bucks.
Alexandria 4, St. Cloud 3
The Alexandria Beetles scored three runs in the bottom of the ninth inning off St. Cloud closer Travis Unthank (Central Missouri) for a stunning 4-3 victory at Knute Nelson Memorial Park in Alexandria. With two outs, a bases-loaded walk followed by a bases-loaded hit-by-pitch tied the game at 3-3. Tanner Vavra (Valparaiso) hit a sharp ground ball off the glove of the second baseman for the game-winning RBI single. Kevin Vangheluwe (Michigan) improved his record to 6-3 with two innings of shut out ball in relief. Neither starter factored into the decision even though both pitched well. Michael Reed (LSU) struck out 10 over seven innings for Alexandria while allowing three runs. Alex Caravella (Pittsburgh) allowed just one run on four hits while striking out six in six innings for St. Cloud.
Duluth 3, Thunder Bay 1
Duluth scored three times in the 9th inning to come away with a 3-1 victory at Thunder Bay. An RBI single by Mike Bisenius (Wayne State) tied the score at 1-1. A bases-loaded hit-by-pitch and a run-scoring error provided the runs that proved to be the difference in the game. Jacob Bax (Jefferson County CC) tossed 2 1/3 scoreless inning out of the bullpen to earn his second victory. Logan Birr (St. Cloud State) threw six shut out innings for Thunder Bay in the no-decision.
Willmar 8, Rochester 5
A five-run 7th inning propelled the Willmar Stingers to a come-from-behind victory at Rochester Tuesday night. Blake Shepherd (Viterbo) homered for the ninth time this season to lead off the inning. A sacrifice fly and RBI single were followed by a two-run single by Eduardo Gonzalez (Alcorn State) to put the Stingers in front for good. Rochester held a 5-2 lead through six innings thanks in part to Johnny Coy's (Wichita State) ninth home run of the season. Ryan Hambright (Oregon) also homered in the loss.
Mankato 10, Brainerd Lakes Area 6
The Mankato MoonDogs won their 6th straight game, coming from behind Tuesday in the 10-6 win at Brainerd. The MoonDogs were trailing 5-0 after two innings, but Matt Reida (Kentucky) hit a go ahead 3-run homer in the 8th to give the MoonDogs the lead for good. Shaun Cooper (Utah) drove in two runs for Mankato to bring his league-leading total to 52 RBIs. Dan Olinger (Minnesota) led the Lunkers at the plate with two hits.
Wisconsin Rapids 7, Madison 4
Justin Jirschele (UW-Stevens Point) went 3-for-4 with two RBIs to lead the Rafters to a 7-4 home win against the Mallards. Sam Montgomery (Oregon State) reached base safely in four of his five plate appearances, scoring one run and driving in one. In defeat, Andrew Barna (Davidson) went 4-for-5 and Justin Parr (Illinois) was 3-for-5 for Madison. Kevin Wild (Valparaiso) struck out six and allowed just two hits in three innings of relief and was credited with his first win of the season.
Wisconsin at Green Bay (Postponed)
The game between the Woodchucks and Bullfrogs in Green Bay was postponed due to heavy rains and poor field conditions at Joannes Stadium on Tuesday. The game will be made up as part of a doubleheader on Wednesday beginning at 5:05 PM.