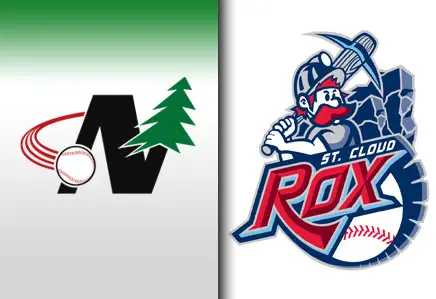 (St. Cloud, MN) The St. Cloud Rox are returning to the Granite City but this time they will play their games in the Northwoods League.
The new owners of the franchise formerly known as the River Bats unveiled the team's name and logo in St. Cloud on Tuesday night. Although the logo is new, the namesake has historical importance to St. Cloud baseball. The Rox were a professional minor league team that played in St. Cloud from 1946 to 1971. They were a member of the Northern League and had affiliations with the New York Giants, San Francisco Giants, Chicago Cubs and Minnesota Twins during their existence.
"This name resonates with a lot of people," Vice President Scott Schreiner said. "To have the past meet the present is going to lead to something special at Joe Faber Field this summer."

Once the ownership group was announced the team decided to hold a contest where fans could submit name ideas. The central Minnesota community showed up in large numbers to the tune of over 1,200 submissions, many of which were asking the club to use the name Rox.

"I've been in this community my whole life, and I know what the name Rox means to people around here." Rox President and co-owner Gary Posch said. "We decided it was a great idea and I think the community will really support this team name."

St. Cloud is commonly known to area residents as The Granite City due to the importance of the granite quarries that have been in operation since the 1880s. The Rox logo features a miner in a baseball batter's pose and a variety of baseball and mining symbols.
The Rox will play in the North Division of the Northwoods League and open their season on Wednesday, May 30th on the road against the Duluth Huskies. The Rox will debut at Joe Faber Field in St. Cloud on Saturday, June 2nd against the Mankato MoonDogs.
The Northwoods League has more teams, plays more games, and draws more fans than any other Summer Collegiate Baseball League in North America. Fifty former Northwoods League players played in the Major Leagues in 2011. The League has 16 teams in Wisconsin, Minnesota, Iowa, Michigan, and Ontario.