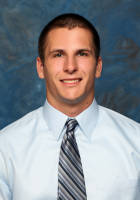 (Wausau, WI) – This week, the Wisconsin Woodchucks announced the addition of a second Creighton Blue Jay to their 2012 roster. Brad McKewon, a sophomore outfielder, will join his Creighton teammate Jake Peter in Wausau this summer playing for the 'Chucks.
After seeing limited action his freshman year, Brad is off to a hot start so far this season for the Blue Jays. Playing in 18 games, he is hitting .326 with 1 home run and 8 RBI. Brad solid production this spring comes on the heels of the fantastic summer he had in 2011, where he hit .338 playing in the Prospect League.
Brad's great production dates back to his high school days. He hit over .400 his last two years, including a .450 average with 16 doubles, 7 triples and 6 home runs his senior year, earning him a first team all-state bid.