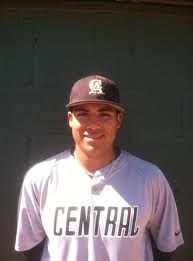 The Thunder Bay Border Cats have added six more players to their roster for the upcoming 2012 Northwoods League season. Joining the Cats are first baseman Ryan Casillas [pictured], pitchers Greg Ryan, Clint Sharp and Woody Nesbit, along with outfielders Luke Willis and Payden Cawley Lamb.
Casillas and Ryan both hail from Chandler, AZ, and are in their sophomore seasons at Central Arizona College in Coolidge, AZ. Border Cats manager Andy Judkins is an assistant coach at Central Arizona. The 6'3", 210 pound Casillas has played in 35 games with the Vaqueros this spring and is batting .298 with seven doubles, two home runs and 22 runs batted in. Ryan, a 6'0", 170 pound lefthander has appeared in eight games and is 2-1 with a 4.30 earned run average.
Sharp is a junior and plays collegiate ball in his hometown at the University of Texas-San Antonio. The 6'3", 180 pound righthander has pitched in 11 games for the Roadrunners this season and is 1-4 with a 6.06 ERA.
Nesbit and Willis both attend Coastal Carolina University in Conway, SC. Nesbit is a 5'9", 180 pound junior righthander from Phoenix, AZ., and Willis is a 5'11", 180 pound freshman from Annandale, VA.
Cawley Lamb is a sophomore at Gonzaga University in Spokane, WA. The 5'10", 185 pound lefthanded hitter from Buckley, WA., has played in 12 games for the Bulldogs this season and is hitting .268 with one double and five RBI's.
The Border Cats play their 2012 home opener at Subway Field on Monday, June 4th, at 7:05 p.m. against the Alexandria Beetles.