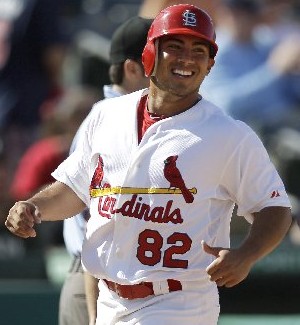 (MILWAUKEE, WI) A former Northwoods League player that is perhaps the biggest surprise on an opening day roster this year is Erik Komatsu of the St. Louis Cardinals. Komatsu, who last year played in Double-A in the Milwaukee Brewers and Washington Nationals organizations, suddenly finds himself in the big leagues after impressing the Cardinals who selected him in the Rule 5 Draft in the offseason.
Komatsu made his Major League debut on Friday night in an 11-5 victory for the Cardinals in Milwaukee. He reached on an infield single to second baseman Rickie Weeks against reliever Tim Dillard in the ninth inning.
Komatsu, a 24-year old left-handed hitting and throwing outfielder, was an 8th round draft pick out of Cal State Fullerton by the Milwaukee Brewers in 2008. He's a career .302 hitter in four minor league seasons. He's a good outfielder who runs well and doesn't strike out very often and walks at nearly a 1 to 1 ratio (66 strikeouts and 64 walks in 2011). At 5'10", 175 pounds Komatsu is always a threat to steal a base and has stolen 49 over his last two minor league seasons.
It will be seen how much playing time Komatsu gets with the Cardinals. As a Rule 5 player the Cardinals must keep Komatsu on their Major League roster for the entire season or offer him back to the Nationals at half of the $50,000 price they paid to acquire him. He's one of five outfielders on the opening day roster for the Cardinals. In addition, former Northwoods League player Allen Craig is another outfielder in the mix but started the season on the disabled list.
Komatsu played for the Brainerd Blue Thunder for two summers. In fact he patrolled the same outfield for the 2006-2007 seasons for Brainerd as current Detroit Tiger Andy Dirks. In his full season in Brainerd in 2006, Komatsu batted .273 with 13 doubles and 22 RBI in 67 games. He walked 28 times compared to 25 strikeouts. In 2007, he was limited to 12 games due to an injury.
Komatsu became the 87th former Northwoods League player to appear in the Major Leagues all-time. In 2011, 50 NWL alumni played in the big leagues. Drew Smyly, a left-hander who pitched for the Duluth Huskies in 2009, is scheduled to start on Thursday for the Detroit Tigers. He'll become the first player from the 2009 Northwoods League class to reach the Major Leagues.