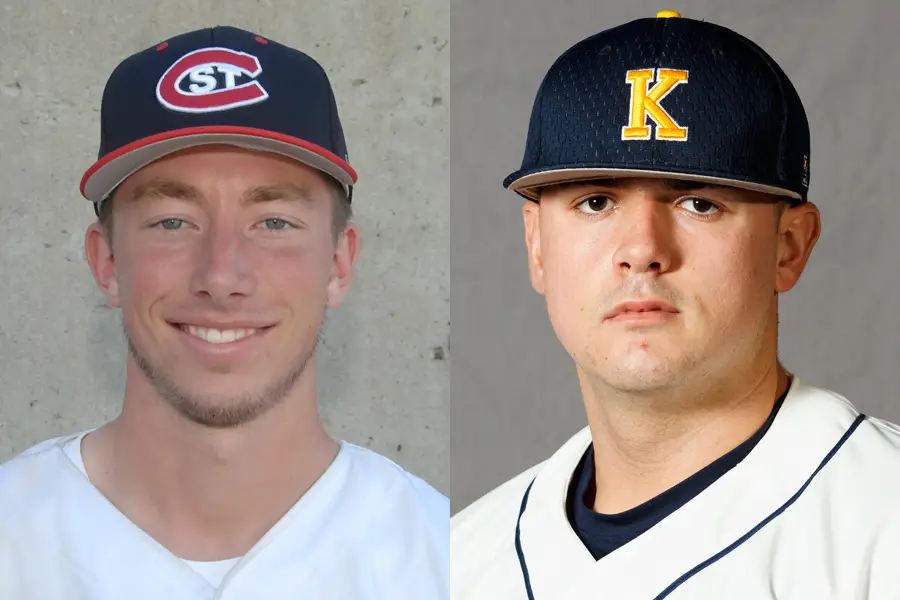 Madison, WI – The Madison Mallards have announced the signing of sophomore left-handed pitcher Chris Kubitz [left] from St. Cloud State University and redshirt freshman right-handed pitcher Josh Pierce [right] from Kent State University. "One of the things I love about coaching in the Northwoods League is the chance to work with players that have superior talents," said Mallards Manager Greg Labbe. "Chris and Josh could have as much talent as any I have coached during my five years in the league and I can't wait to see what they are able to accomplish at the 'Duck Pond' in 2012."
Kubitz, a 6'6", 212 pound sophomore from Shakopee, Minnesota will join the Mallards after completing his second season with the Huskies. So far in 2012, he has made 11 appearances, including one start and has a 7.11 ERA. His high ERA comes mainly from a rough outing against Wayne State where he made his first start and lasted just 1.1 innings and gave up seven earned runs. He has been nearly perfect in his ten other appearances. In 2011, he finished with a 1.88 ERA and 3-1 record while striking out 42 batters in 28.2 innings.
"Chris is a big left-handed pitcher with big raw arm strength," said Labbe. "He pitched very well last year as a freshman out of the bullpen and I would envision doing the same with him this summer in Madison. Chris isn't just a left-handed match up guy, he can pitch effectively in a middle relief role or even vie for one of the closer positions.
Kubitz attended Shakopee High School where he was a three-year letter winner. He also was named to the All-Conference Team and was the team MVP as well as the Offensive and Defensive Player of the Year. He is majoring in business at St. Cloud State.
Pierce, a 6'1", 215 pound redshirt freshman from Avon, Ohio is set to come to Madison after completing his first season playing for the Flashes. So far in 2012, he has made six appearances, all out of the bullpen. He has nine strikeouts in just 8.1 innings. Pierce redshirted his freshman year at Kent State following Tommy John surgery.
"Josh has all the ability to be a dominant guy for us," said Labbe. "He can run his fastball up to 92 and compliments it with a sharp 12/6 curve ball. He gets to work with one of the best pitching coaches in the country at Kent State, and I know that by the time he gets to us in June he is going to be ready to put up some big numbers for us pitching out of the bullpen."
Pierce attended Avon High School where he was an All-County and All-Conference Selection. He also competed in the East Coast Pro Showcase while at Avon. He is majoring in exercise science at Kent State.
The Mallards will host their season opener against the Battle Creek Bombers on May 30th at 7:05 pm at the "Duck Pond." 7-Game Packs, season, and group tickets are on sale now! Single-game tickets go on sale April 28th.
The Madison Mallards are part of the 16-team Northwoods League. The Northwoods League has more teams, plays more games, and draws more fans than any other Summer Collegiate Baseball League in North America.