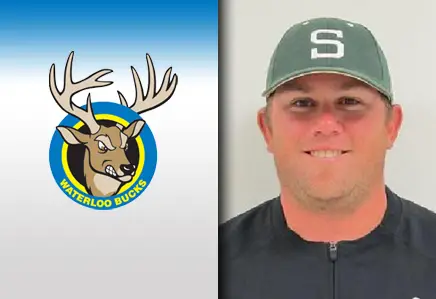 Waterloo, IA – The Waterloo Bucks, a member of the Northwoods League, have announced the hiring of Chris Hodges as a coach for the 2012 season. Currently, Hodges is an assistant coach at the Scottsdale Community College in Scottsdale, Arizona. The Fighting Artichokes are 24-13 on the season and are in the midst of their Arizona Community College Athletic Conference season.

A native of Jackson, Wyoming, Hodges is in his first season at Scottsdale CC where he works primarily with outfielders. Hodges also assists in recruiting and pre-game preparations for SCC.

"I am excited to spend the summer in Waterloo with the Bucks and to be a part of one of the best summer-collegiate baseball leagues in the nation," said Hodges. "I'd like to thank manager Travis Kiewiet for giving me the opportunity."

Hodges played at Missouri Valley College in Marshall, Missouri from 2004-06. After his playing days were through, Hodges began his coaching career in American Legion ball with the Casper Oilers in Casper, Wyoming. After a state runner-up finish in 2006, Hodges moved to Gillette, Wyoming where he was an assistant with the Gillette Roughriders American Legion team, helping them to their first ever state championship in 2008 and a runner-up finish in 2009. In 2010, Hodges became the Head Coach for the Bozeman Bucks, an American Legion program in Bozeman, Montana.

Hodges began his collegiate coaching career in 2008 at Pierce Community College in Lakewood, Washington where he was the Raiders' infield coach. After the 2011 season, Hodges was hired by SCC head coach Alex Cherny as the Artichokes' outfielders coach.

Hodges joins field manager Travis Kiewiet, coach Pat Casey, and pitching coach Miles Miller to form the staff for the Bucks' 18th season of play.

"Chris Hodges is a coach that has a deep desire for baseball and wants to take that next step up in the coaching ranks," said Kiewiet. "I'm very excited to have Chris on staff this summer. He is a great addition to our organization and will be a huge asset to our hitters."