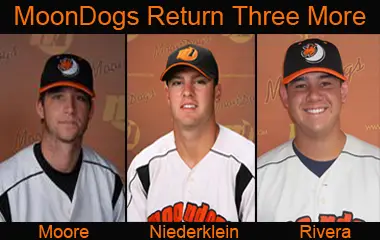 MANKATO, Minn.–The Mankato MoonDogs Baseball Club, a member of the Northwoods League, is pleased to announce the commitment of infielder Blair Moore and pitchers Tyler Niederklein and Mike Rivera to return to play for the MoonDogs in the 2012 season.
Moore, a 6-foot-3-inch, 205-pound Sophomore of California Baptist University (Riverside, Calif.) made quite an impact on the 2011 MoonDogs team with a slugging percentage of .491 and recorded the MoonDogs only walk-off homerun.
"It will be great to have Blair back again. From a hitting standpoint he definitely has a lot of power that will give us an advantage this summer," said field Manager Mike Orchard.
After transferring from San Diego State University to CBU, Moore holds the highest slugging percentage for the Lancers at .597.
Niederklein, a 6-foot-3-inch, 205-pound Junior of the University of Nebraska is one of three natives pitching for NU and is in his third season with the Huskers. For the MoonDogs, Niederklein pounded the strike zone last summer as he held the second highest numbers for strikeouts with 51 and posted a 2.86 ERA.
"Tyler competes hard and can throw accurately. It's always nice when you can return a player that does the things necessary to give us a chance to win," said Orchard.
Rivera, a 5-foot-11-inch, 225-pound Junior of Fresno Pacific University (Fresno, Calif) arrived with the MoonDogs midway through the 2011 season. Rivera showcased his versatility by briefly playing catcher as well as pitching. As a pitcher, he went 2-0 in five appearances. In his third season with the Sunbirds, Rivera currently leads the team in saves with five.
"Michael will be back in the bullpen this summer and we look forward to him being a strikeout pitcher for us again," said Orchard.
The MoonDogs home opener is scheduled for Friday, June 1 at 7:05 p.m. against the St. Cloud Rox at Franklin Rogers Park. Season tickets are now on sale at the MoonDogs office located at 1221 Caledonia Street. For more information, visit our website www.mankatomoondogs.com or call the MoonDogs office at 507-625-7047.