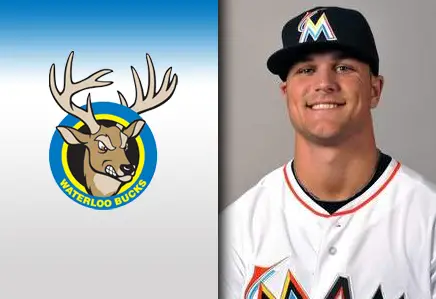 (MIAMI, FL) Former Waterloo Bucks left-handed pitcher Dan Jennings made his Major League Baseball debut Monday with a scoreless inning of relief for the Miami Marlins. Jennings, who was called up from Triple-A New Orleans earlier in the day, faced four batters in the sixth inning, forcing three of them to fly out and walking one in Miami's 9-5 loss to the Arizona Diamondbacks.
Jennings, who played with Waterloo in 2006 and 2007, was drafted by the Marlins in the ninth round of the 2008 Major League Baseball Draft. This season while in Triple-A, Jennings appeared in nine games for the Zephyrs, striking out ten in 8 2/3 innings pitched. The West Des Moines, Iowa native compiled a 2.08 ERA and was holding opposing hitters to a .200 average.
A 6-foot 3-inch University of Nebraska product, Jennings appeared in 33 games in his two seasons with Waterloo owning a career 6-7 record with a 2.59 ERA. He started 15 games and logged three complete games with 99 strikeouts in 125.1 innings pitched. In his final season with the Bucks, Jennings finished the season with a 2.01 ERA, and earned an all-star appearance.
Jennings becomes the eighth former Waterloo Buck to play in the Major Leagues. Pittsburgh Pirates infielder Clint Barmes is the other Bucks alum that is currently active. Jennings is the 89th Northwoods League alum to make it to the big leagues and the 31st to appear in a game in 2012.
The Northwoods League has more teams, plays more games, and draws more fans than any other Summer Collegiate Baseball League in North America. The League has 16 teams in Wisconsin, Minnesota, Iowa, Michigan, and Ontario. Opening night 2012 is Wednesday, May 30th.