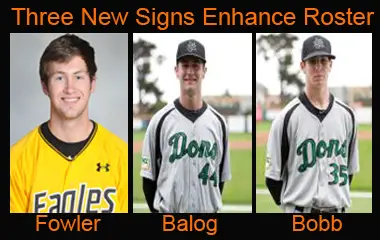 MANKATO, Minn.–The Mankato MoonDogs Baseball Club, a member of the Northwoods League, is pleased to announce the commitment of catcher Chase Fowler, along with pitcher's Alex Balog and Abe Bobb to play for the MoonDogs in the 2012 season.
Fowler, a six-foot-one-inch, 183-pound junior of The University of Southern Mississippi is playing well in his third season with the Eagles throwing out 10 of 28 batters and has a fielding percentage of 99.2 percent.
"It helps when you can bring Veteran players like Chase to the team. He's a guy who can call the game and stop the running game," said Field Manager Mike Orchard. "What he can do offensively will be a bonus, but his main job for us will be to aid the pitching staff."
Balog, a six-foot-5-inch, 210-pound sophomore of the University of San Francisco is making his mark as a Don's pitcher in his second season with the team. Despite going 2-3, Balog is boasting a 2.89 ERA with 43 strike-outs.
The Saratoga, Calif. native is expected to start, relieve or go half and half for the MoonDogs.
"Alex can throw some really good stuff, upper 80's to lower 90's, and he's been the number two starter for USF all year long. We look forward to him joining the team and continuing that stride," said Orchard.
According to the USF athletics website, Bobb, a six-foot-2-inch, 160-pound redshirt sophomore had a goal to make the spring pitching staff. He not only achieved that goal, but has done so fashionably striking-out 50 batters and posting a 2.70 ERA.
"Posting similar numbers as Alex, the USF pitching staff does a good job at developing high end guys and we see that with Abe," said Orchard.
Bobb played in the New England Collegiate Baseball League in 2011 where he pitched 35.1 innings and walked only two batters all summer.
The MoonDogs home opener is scheduled for Friday, June 1 at 7:05 p.m. against the St. Cloud Rox at Franklin Rogers Park. Season tickets are now on sale at the MoonDogs office located at 1221 Caledonia Street. For more information, visit our website www.mankatomoondogs.com or call the MoonDogs office at 507-625-7047.