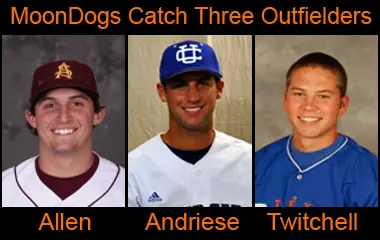 MANKATO, Minn.–The Mankato MoonDogs Baseball Club, a member of the Northwoods League, is pleased to announce the commitment of outfielders Trever Allen, David Andriese and J.M. Twitchell to play for the MoonDogs in the 2012 season.
Allen, a five-foot-11-inch, 175-pound redshirt freshman of Arizona State University is in his first season with the Sun Devils. Following in his father's footsteps; Jamie Allen was a member of the Sun Devils 1977 National Championship, Allen is taking a part in the Sun Devils legacy with two homeruns this spring and is currently hitting .292.
"Trever is very athletic, he has the speed and ability to throw guys out," said Field Manager Mike Orchard. "His quickness gives him the tools to be an on-base guy, and we're expecting him to bat at the top of the order for us."
Named to the 2011 Big West Honorable-Mention team, Andriese, a six-foot-two-inch, 210-pound sophomore of the University of California-Riverside is performing a repeated homerun pattern for the Highlanders this spring. Andriese, who was tied for the team lead in homeruns following the 2o11 season with four, is currently tied again for the team lead this season with two.
"David is a left-handed hitter who is capable of delivering a great amount of power off the bat," said Orchard. "Along with being a power man, he'll see a lot of time in right-field for us."
Twitchell, a six-foot-two-inch, 195-pound transfer-junior of the University of Texas at Arlington is sitting this season out for the Mavericks after transferring from the University of New Mexico. Before transferring the Dallas, Texas native earned two letters with the Lobos under head coach Ray Birmingham.
"After sitting for a season it may take J.M. a little bit to get going, but once he does he is a dominate left-handed hitter who will be in the middle of our lineup," said Orchard.
The MoonDogs home opener is scheduled for Friday, June 1 at 7:05 p.m. against the St. Cloud Rox at Franklin Rogers Park. Season and single game tickets are now on sale at the MoonDogs office located at 1221 Caledonia Street. For more information, visit our website www.mankatomoondogs.com or call the MoonDogs office at 507-625-7047.