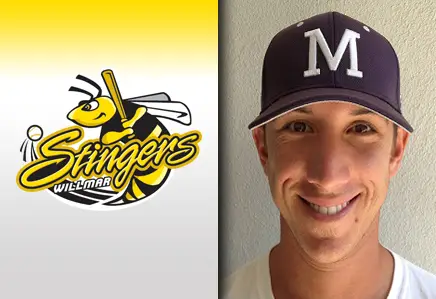 WILLMAR, Minn. (May 9, 2012) – The Willmar Stingers are pleased to announce the hiring of Steve Sanchez as an Assistant Coach for the upcoming 2012 season.

Sanchez is currently an Assistant Coach at San Diego Mesa College and will make the trip north in less than three weeks as the Stingers open up their third season of Northwoods League play. The Stingers will host the Mankato MoonDogs on Wednesday, May 30 at Bill Taunton Stadium and former major leaguer and Two-Time Cy Young Award winner Bret Saberhagen will be on hand to throw out the ceremonial first pitch presented by Christianson & Associates, PLLP and Lakeland Broadcasting.
Sanchez he will join pitching coach Tyler Shepple and manager Matt Hollod on the coaching staff this season. Sanchez will also be reunited with current University of San Diego catcher Dillon Haupt (University of San Diego) this summer. Sanchez coached Haupt for two years while he attended San Diego Mesa the last two years, before Haupt transferred to USD last fall.

As well as a coach for the past five years at San Diego Mesa College, Sanchez is also an instructor of Health and Physical Education.
Sanchez played for his father and head coach, Mike Sanchez at Santa Fe Christian High School in San Diego. He earned All-Coastal League honors and was a member of a Santa Fe Christian team that won the Coastal Conference Championship.
After graduating from Santa Fe Christian High in 2002, Sanchez was recruited to be an infielder for San Diego Mesa College. As a sophomore, Sanchez hit .321 with 27 runs scored and 24 RBI.
Following his sophomore year at San Diego Mesa, he transferred to California Baptist University. Sanchez primarily played third base for the Lancers and continued to display offensive prowess.
In 2006, Sanchez was a top-ten conference hitter as a junior, hitting .361 and helped lead his new school to the NAIA Region II Playoffs. Sanchez hit .292 as a senior before graduating from California Baptist with a Bachelor's of Science degree in Kinesiology with an emphasis in Physical Education.
After his college playing career was over, Sanchez jumped right into coaching. Along with coaching at San Diego Mesa, he also coached for the summer collegiate league Harrisburg Turks of the Valley Baseball League in Virginia.
Sanchez will be primarily responsible for working with the infielders and coaching third base for the Stingers.
Other latest news….The Stingers have announced today they will be without returners Tanner Banks and Ben Burns and newcomer Lance Thonvold because of high number of innings pitched and injuries this spring.
For more information regarding Sanchez and the 2012 roster, visit www.willmarstingers.com, www.wctrib.com or call 320-222-2010. The 2012 season is presented by Charter Communications.