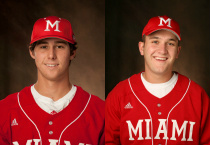 BATTLE CREEK, Mich. (May 16, 2012) — The Bombers have signed Left-Handed pitcher Brian Thene and Right-Handed Pitcher Nathan Williams for the 2012 season.
Brian Thene (left) is in his first season with the Red Hawks and has been a key bullpen member as the Red Hawks are 25-23. In 14 appearances, included one start, Brian has amassed a 2-0 record and a 2.25 ERA. In 12 innings pitched, Brian has only yielded three earned runs while striking out 12 batters. Brian was a two-year varsity letter winner at Torrey Pines High School. Additionally, Brian was a San Diego Union-Tribute Scholar Athlete, for earning at least 3.5 GPA.
Nathan Williams (right) is pitching in his first season with the Red Hawks after red shirting the 2011 season while recovering from knee surgery. Despite having a 0-3 record, Nathan carries a team best 2.21 ERA in 18 appearances out of the bullpen. Additionally, Nathan has three saves. In 20.1 innings pitched, Nathan has given up five earned runs while striking out 23 and walking just 11. Nathan attended Scripps Ranch High School in San Diego California and was a 45th round selection by the Baltimore Orioles.
The Battle Creek Bombers are members of the prestigious Northwoods League that has more teams, plays more games, and draws more fans than any other summer collegiate baseball league in North America. The team is set to kick off their 6th season in Battle Creek on June 1st with a Fireworks display and 2011 Championship celebration. For tickets call (269) 962-0735 or visit BattleCreekBombers.com.