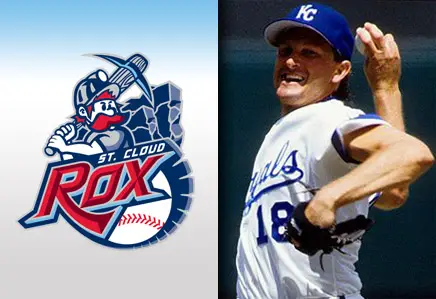 ST. CLOUD, Minn. (May 24, 2012) — The St. Cloud Rox will be making their Northwoods League debut on June 2nd with a little help from a baseball legend. Former MLB Cy Young award winner Bret Saberhagen will be on hand to throw out the ceremonial first pitch at the Rox home opener at
Joe Faber Field. The Rox will open 2012 against the defending North Division champion Mankato MoonDogs with first pitch scheduled for 7:05 pm.
Saberhagen played 16 seasons in the major leagues with the Kansas City Royals, New York Mets, Colorado Rockies and Boston Red Sox beginning in 1984. In 1985 while pitching for the Royals Saberhagen won a Cy Young award with a 20-6 record, a sparkling 2.87 ERA and 158 strikeouts against just 38 walks.
"Sabes" also helped to bring the ultimate prize home to Kansas City in 1985 by going 2-0 with an ERA of 0.50 in an intrastate World Series matchup with St. Louis. Saberhagen threw complete games in both the third and seventh games of the series, including a shutout in game seven.
In 1989, Saberhagen won a second Cy Young award with Kansas City after posting a 23-6 record (including 12 complete games) with a league-low 2.16 ERA. He also charted a career-high 193 strikeouts and recorded a microscopic .961 WHIP.
Saberhagen's son Drew, born the day before game seven in 1985, played four years for the Alexandria Beetles of the Northwoods League and is currently the team's field manager after spending the previous two seasons as the pitching coach.
"We are very excited to bring Bret Saberhagen to central Minnesota for the Rox opener," Rox general manager Wes Sharp said. "It's a great chance for our fans to come out and see a baseball legend while being a part of our inaugural home opener."
The first-ever home opener for the Rox on June 2nd is presented by Coborn's and will also feature fireworks immediately following the game.
Great season tickets are available for the Rox inaugural year at Joe Faber Field. Full-season passes start at just $239 with partial-season and individual game tickets currently on sale as well.Tickets are available by calling 320-240-9798 or by visiting www.stcloudrox.com.