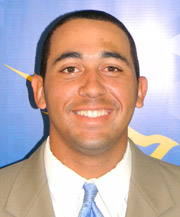 WATERLOO, Iowa (May 24, 2012) — The Waterloo Bucks, a member of the Northwoods League, have announced the signing of right-handed pitcher Zachary Pettiford. Pettiford is a junior at Texas A&M Kingsville and this will be his first season with the Waterloo Bucks.
This last season, Pettiford pitched 51.2 innings in 11 appearances. In those games, Pettiford posted an impressive 5-2 record with a 4.35 ERA. He also had a very solid strikeout to walk ratio, with 41 strikeouts and just 10 walks. This earned Pettiford a spot on the Lone Star Conference Second Team as a starting pitcher.
Before this, Pettiford attended Grossmount College and San Diego Mesa College. At Grossmount, Pettiford put up a 6-3 record with a dominant 1.91 ERA, earning him honorable mention all-Pacific Coast Athletic Conference honors.
At Patrick Henry High School in San Diego, CA, Pettiford earned first team all-league honors after finishing his senior season with a 6-2 record and a 2.30 ERA. He was also his team's MVP and pitcher of the year as a senior.
The Bucks will open the 2012 season at home versus the Rochester Honkers on May 30 at 6:35 pm. The game will be aired live on 1650 The Fan. Season tickets and single-game tickets are currently on sale. Fans are encouraged to stay in touch with the Bucks in the off-season by utilizing their website at www.waterloobucks.com.