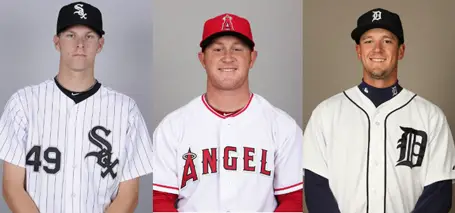 ROCHESTER, Minn. (June 2, 2012) – With the 2012 Major League Baseball First-Year Player Draft beginning tonight, the Northwoods League is hopeful to continue the list of success stories for the League's alumni. To date, 91 former Northwoods League players have reached the Major Leagues including 38 that have played in the big leagues this year.
An interesting recent success story involves the 2010 Major League Draft class. There are currently seven active players in Major League Baseball that were drafted in 2010. Three of those players are Northwoods League alumni. Chris Sale, Drew Smyly and Kole Calhoun all played baseball in the Northwoods League for at least one summer before becoming major leaguers.
Chris Sale (left), a starting pitcher for the Chicago White Sox, spent the summer of 2008 in the NWL with the La Crosse Loggers. Sale is the second highest MLB Draft pick in Loggers history, going 13th overall to the White Sox. The southpaw was a 2008 NWL All-Star and is currently pitching in his third season for Chicago. Sale made his Major League debut on August 4, 2010 against the Baltimore Orioles just two months after being drafted. Sale is currently 7-2 with a 2.30 ERA in 10 starts for the White Sox. He tossed his first career complete game on Sunday in a 4-2 victory against Seattle. In Sale's previous start on May 28th, he struck out 15 Tampa Bay Rays in a 2-1 win.
Detroit Tigers starting pitcher Drew Smyly (right) pitched for the Duluth Huskies in the summer of 2009, but never earned a victory in the Northwoods League. In seven starts, Smyly finished 0-3 with a 3.32 ERA. He struck out 44 batters in 40.2 innings. The 23-year-old has a 2-1 record in 10 starts so far in 2012 since making his Major League debut on April 12, 2012.
Angels' outfielder Kole Calhoun (center) played in the Northwoods League from 2007 to 2009. Calhoun represented the Eau Claire Express in the 2007 and 2008 Northwoods League All-Star Games and was named the co-MVP of the League for the 2007 season. Calhoun currently holds Eau Claire Express single-season records in runs scored with 57, doubles with 19 and saves with 14. He also holds Eau Claire career batting records in runs batted in with 70 and doubles with 41. Calhoun made his first Major League start for the Angels on May 23, 2012. He's batting .273 in six games for the Angels.
The Northwoods League has more teams, plays more games, and draws more fans than any other Summer Collegiate Baseball League in North America. The League has 16 teams in Wisconsin, Minnesota, Iowa, Michigan, and Ontario. The League's 19th season began on Wednesday.