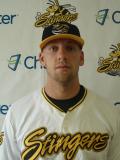 WILLMAR, Minn. (June 6, 2012) – Willmar Stingers shortstop Hunter Dozier (Stephen F. Austin) was named the Northwoods League Player of the Night for Wednesday, June 6.
Dozier was 3-for-4 for the Stingers in their 13-8 win over the undefeated Waterloo Bucks. Dozier drew one walk, scored two runs and drove in three for Willmar. Dozier recorded his first home run of the year in the bottom of the third.
The Stingers and Bucks will face off again on Thursday with the first pitch scheduled for 7:05 p.m. in Willmar.