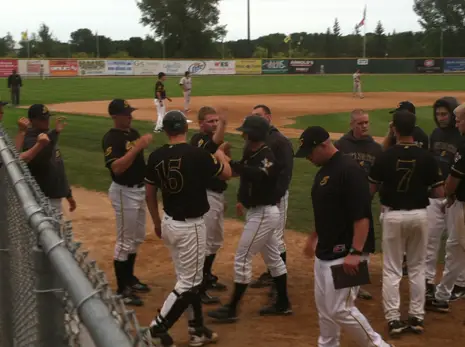 ROCHESTER, Minn. (June 6, 2012) — Runs were not scarce around the league on Wednesday. Seven teams scored seven runs or more on Wednesday night. There are also no undefeated teams remaining in the Northwoods League.
La Crosse 9, Eau Claire 1
The Loggers were fueled by Richard Prigatano (Long Beach State) who went 3-for-5 with two RBI and two runs scored. The Loggers host the Express on Thursday for a 7:05 p.m. start.
Alexandria 7, St. Cloud 15
The Rox came with plenty of offense. The team was led by Ben Morgan (Georgia Southern) who went 3-for-6 with two RBI and a run scored. The Beetles take on the Rox again on Thursday in St. Cloud at 7:05 p.m.
Mankato 6, Thunder Bay 2
The MoonDogs saw third baseman Blair Moore (Cal Baptist) drive in an RBI while going 3-for-4 at the plate and scoring twice in their 6-2 win over Thunder Bay. Thunder Bay plays Mankato again on Thursday with a 7:05 p.m. start.
Rochester 2, Duluth 3
The Huskies starting pitcher Eric Geist (Florida State) threw six innings allowing just one run on three hits to help the Huskies to a 3-2 win. Geist also struck out seven batters in his six innings of work. The Huskies will host the Rochester Honkers again for a 7:05 p.m. start on Thursday.
Wisconsin Rapids 8, Wisconsin 6
The Wisconsin Rapids were led once again by Alex Bacon (North Florida) who was the team's star at the plate. He went 3-for-4 with two RBI and two runs scored. The Rafters will visit the Wisconsin Woodchucks at 6:35 p.m. on Thursday.
Battle Creek 11, Lakeshore 4
Battle Creek saw Kyle Figgins (Buffalo) lead their offense to the 11-4 win. Figgins was 2-for-3 with two RBI and a run scored. He also drew two walks from the Lakeshore pitching staff. The Chinooks will host the Battle Creek Bombers at 7:05 p.m. on Thursday.
Willmar 13, Waterloo 8
The Bucks suffered their first loss of 2012. The Stingers were led at the plate again by shortstop Hunter Dozier (Stephen F. Austin). Dozier went 3-for-4 with three RBI and one run scored, including his first home run of the season. Willmar will host the Waterloo Bucks on Thursday with the first pitch scheduled for 7:05 p.m.
Madison 2, Green Bay 1
The Mallards were led by starting pitcher Matt LaMothe who threw six innings and allowed just one earned run on six hits. LaMothe also struck out eight batters on his way to his second win of the season. The Mallards host Green Bay at 7:05 p.m. on Thursday.