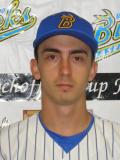 ROCHESTER, Minn. (June 12, 2012) – Waterloo Bucks center fielder Peter Leonello (Long Island) was named the Northwoods League Player of the Night for Tuesday, June 12.
Leonello was 6-for-6 with three RBI and three runs scored. Leonello hit an RBI double in the top of the eighth to put the Bucks up 7-3. Leonello recorded his sixth hit of the night in the top of the ninth when he slapped a single to right-center field and would score for the fourth time later in the inning.
The Border Cats and Rox will be at it again on Wednesday morning with the first pitch scheduled for 11:05 a.m. ET.