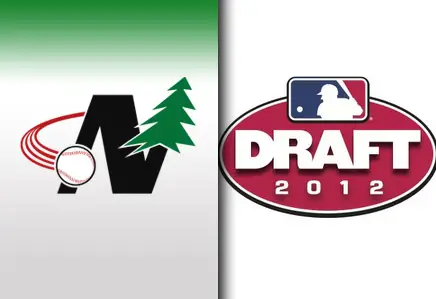 ROCHESTER, Minn. (June 12, 2012) – The 2012 Major League First-Year Player Draft finished up last week and the Northwoods League was well represented. A total of 129 current Northwoods League players and alumni were selected in this year's draft. Two former players were taken in the first round and four players were picked in the second round.

View the entire draft list here.
Outfielder Tyler Naquin (Texas A&M) became the highest draft pick in Mankato MoonDogs history when the Cleveland Indians took him in the first round, 15th overall. Naquin played 20 games for the MoonDogs in the summer of 2010.
Mitch Haniger (Cal Poly) was drafted by the Milwaukee Brewers in the first round and 38th overall. The outfielder played 24 games for the Green Bay Bullfrogs in 2011. In those games, Haniger hit for an average of .277 with five home runs and 22 RBIs.
The Cleveland Indians drafted the most NWL players by taking 11 in 2012, including Josh Martin (Samford) who played for the Green Bay Bullfrogs in 2011. The Indians took Martin in round 10 of this year's draft. Martin pitched in six games for Green Bay and recorded a 2-1 record with a 3.33 ERA.
There were 17 Madison Mallards drafted in this year's 2012 MLB Draft, the most of any team in the NWL. The team's highest pick came in the seventh round, when third baseman Stephen Bruno (Virginia) was taken 224th overall. Bruno played for the Mallards in 2010 when he recorded 16 RBI in 24 games.
Current Madison pitcher Alec Mills (Tennessee Martin) was drafted in the 22nd round by the Kansas City Royals and has signed with the team. In just 13 innings pitched for the Mallards in 2012, Mills had struck out 17 and allowed just two runs.
The Northwoods League has more teams, plays more games, and draws more fans than any other Summer Collegiate Baseball League in North America. The League has 16 teams in Wisconsin, Minnesota, Iowa, Michigan, and Ontario. The League is currently in its 19th season.