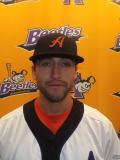 WATERLOO, Iowa (June 15, 2012) – Alexandria Beetles starting pitcher Jon Reed (Memphis) earned the honor of Northwoods League Pitcher of the Night for Friday, June 15.
Reed threw six shutout innings for the Beetles and allowed just three hits. He also struck out six Waterloo batters. The Tulsa, Okla. native is now 2-0 on the season with a 0.56 Earned Run Average as he has allowed just one run in 16 innings of work.
The Bucks and Beetles will battle again on Saturday when they face off in Waterloo beginning at 6:35 p.m.