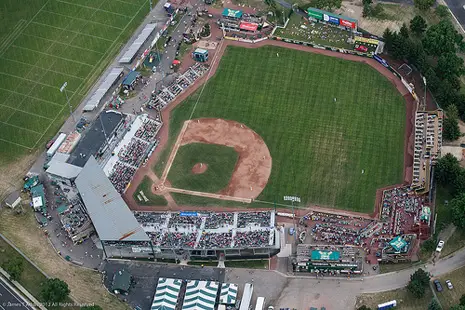 ROCHESTER, Minn. (June 17, 2012) – On Father's Day, the Loggers improved to 7-0 at home and the MoonDogs saw one of the most dominating pitching performances of the season.
Green Bay 13, Eau Claire 7
The Bullfrogs saw a great performance by Duncan McAlpine (Dallas Baptist) at te plate. McAlpine was 2-for-3 with three RBI, four runs scored, two walks and a home run. The Express will travel to Wisconsin Rapids to begin a series with the Rafters on Monday with the first pitch scheduled for 7:05 p.m. The Bullfrogs will host the Mallards from Madison for a 7:05 p.m. start.
Alexandria 7, Waterloo 6
The Beetles scored three runs in the top of the eighth to make the score 7-4 and that would be just enough for Alexandria to get the win. The Beetles and Bucks will face off again on Monday in Waterloo for a 6:35 p.m. start.
Thunder Bay 10, Duluth 0
The Border Cats were led by Wes Parsons (Jackson State) who earned his fourth win of the season. Parsons threw eight shutout innings and allowed just four hits. Thunder Bay and Duluth will face each other again on Monday at 7:05 p.m.
Battle Creek 4, Wisconsin Rapids 12
The Rafters were led by Nicholas Ammirati (Mississippi State) who was 2-for-4 at the plate with two RBI and three runs scored. Ammirati hit the only Rafters home run in the game and recorded a stolen base. The Bombers will host the La Crosse Loggers on Monday for a 7:05 p.m. ET start.
Lakeshore 3, Madison 9
The Mallards were led once again by Jose Trevino (Oral Roberts), who was 2-for-2 with two RBI and two runs scored on the day. The third baseman also stole a base and drew two walks. The Chinooks will take on the Woodchucks on Monday with a start scheduled for 6:35 p.m.
Rochester 0, Mankato 3
The MoonDogs were led by the most dominating performance of the night. Their starting pitcher, Seth Webster (Nicholls State), tossed a complete game shutout and struck out eight Rochester batters. These two teams will face off again on Monday in Rochester at 7:05 p.m.
Wisconsin 2, La Crosse 4
The Loggers saw another solid pitching performance from Alex Gunn (Hinds CC) who threw eight innings allowing just one run on three hits and striking out six Wisconsin batters. Gunn improves to 3-0 on the season with a 1.32 Earned Run Average.
St. Cloud 5, Willmar 7 (5 innings)
Due to severe weather and the threat of a tornado in the area, this game was called after the fifth inning. The Stingers saw a good performance by Hunter Dozier (Stephen F. Austin) who was 2-for-3 with two RBI and a run scored. This series will shift to St. Cloud for a 7:05 p.m. start on Monday.