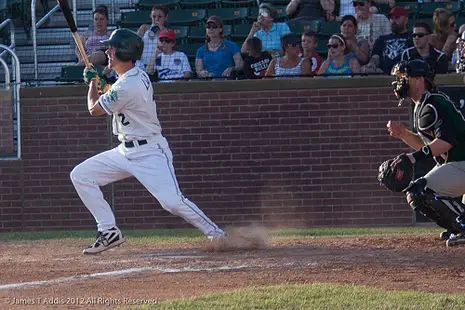 ROCHESTER, Minn. (June 20, 2012) – The rain couldn't stay out of Thunder Bay, Ontario for the second straight day, forcing Wednesday's double-header to be postponed.
The Bucks and Border Cats will have double-headers scheduled for Thursday and Friday, with the first games each day beginning at 6:05 p.m. ET.
Meanwhile, the Loggers broke a franchise record as they won their 11th straight game, the Willmar Stingers improved their winning streak to four games and the Rafters and Express had to suspend play.
Madison 2, Green Bay 3
Duncan McAlpine (Dallas Baptist) stayed hot for the Bullfrogs as he went 2-for-4 and drove in a run for Green Bay. The Mallards will be hosted by the Lakeshore Chinooks on Thursday for a 7:05 p.m. start, while the Bullfrogs will welcome the Eau Claire Express to town for a 7:05 p.m. start.
Rochester 6, Alexandria 3
The Honkers were led again by Reid Roper (Illinois) who drove in three runs for Rochester. D.J. Snelten (Minnesota) also threw five innings for Rochester, allowing just one run and striking out seven. This series will wrap up on Thursday when the two teams square off at 7:05 p.m.
La Crosse 8, Battle Creek 3
La Crosse was led by a solid starting pitching performance by Jake Stassi (Long Beach State) who threw six shutout innings. The Loggers will travel to Wisconsin Rapids, Wis. to face the Rafters for a 7:05 p.m. start on Thursday. The Bombers will host the Wisconsin Woodchucks at 7:05 p.m. ET.
Lakeshore 11, Wisconsin 15
The Woodchucks trailed 11-9 in the top of the ninth, when their offense rallied for six runs to take the 15-11 lead. Max Ising (Neosho County CC) would come in to finish off the Chinooks in the bottom of the ninth.
Duluth 1, Mankato 3
Zach Hall (Parkland) threw 6.1 innings for the MoonDogs allowing just one run and striking out eight batters. Hall also earned the win. The Huskies and MoonDogs will finish this series on Thursday with the first pitch scheduled for 7:05 p.m.
Wisconsin Rapids 5, Eau Claire 2 (Play Suspended)
Rain moved into the area and caused play to be suspended. The game will pick up in the top of the fifth inning on July 9. The game will be played to nine innings before a seven-inning game to follow.
Willmar 5, St. Cloud 4
The Stingers win their fifth straight on the back of Steven Brault (Regis). Brault was 3-for-4 with three RBI, which came on a three-run home run in the top of the sixt to put the Stingers ahead. This series will shift to Willmar for the finale with a 7:05 p.m. start time scheduled.