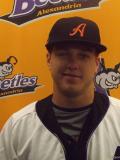 ALEXANDRIA, Minn. (June 22, 2012) – Alexandria Beetles second baseman Tanner Vavra (Valparaiso) earned Northwoods League Player of the Night for Friday, June 22.
Vavra was 3-for-5 at the plate for the Beetles with three RBI and three runs scored. Vavra also recorded his first home run of the season with a solo shot in the bottom of the seventh inning. Vavra recorded four assists in the field giving him 25 on the season.
The Beetles went on to win the game, 12-3. Alexandria will host the MoonDogs again on Saturday for the series finale. First pitch is scheduled for 7:05 p.m.