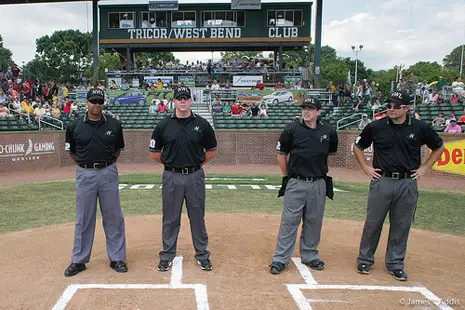 ROCHESTER, Minn. (June 24, 2012) – There were just three games on Sunday in the Northwoods League, but those games brought plenty of action; from near pitching perfection in Madison, to another player in the league recording at least six Runs Batted In.
Eau Claire 2, Madison 3
Seven combined perfect innings by Mallards pitchers, including six from Mallards starter Matt LaMothe (Georgia State), and center fielder Tyler Marincov's (North Florida) fifth home run of the season was enough to get the Madison Mallards a 3-2 win. On Monday the Mallards will travel to face the Wisconsin Woodchucks at 6:35 p.m. The Express will host the Battle Creek Bombers at 6:35 p.m.
St. Cloud 11, Alexandria 12
The Beetles were led by Ben Moore (Alabama) who was 2-for-3 at the plate with three RBI and one run scored. The Rox rallied for five runs in the top of the ninth to cut the lead to one, but Anthony Bazzani (Eastern Kentucky) was able to come in and close out the victory. The Beetles will travel to Rochester on Monday for a 7:05 start. St. Cloud will host the Thunder Bay Border Cats on Monday at 7:05 p.m.
Willmar 6, Mankato 3
The Stingers were led by Kenny Roberts (Alabama) who was 2-for-4 at the plate for Willmar and drove in all six runs. Roberts hit two three-run home runs to give him five home runs on the season. The Stingers and MoonDogs will meet again on Monday at 7:05 p.m.