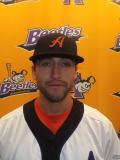 ALEXANDRIA, Minn. (June 27, 2012) – Alexandria Beetles starting pitcher Jon Reed (Memphis) earned the honor of Northwoods League Pitcher of the Night for Wednesday, June 27.
Reed gave eight strong innings of work against Thunder Bay on Wednesday. He allowed just one earned run on four hits. Reed also struck out six batters and walked just one. His record stays at 2-1 on the season as he did not record the win.
The Beetles won the game 4-3 in 10 innings. Alexandria will host the Border Cats again on Thursday with a start time of 7:05 p.m.