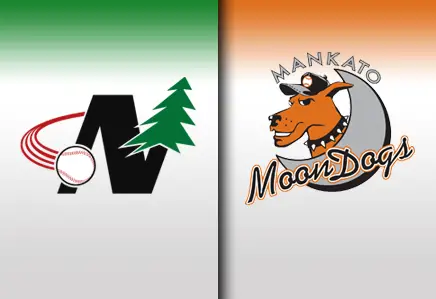 MANKATO, Minn. (June 26, 2012) — The Mankato MoonDogs Baseball Club, a member of the Northwoods League, is elated to announce former Minnesota Twins player and the 1988 All-Star games Most Valuable Player, Terry Steinbach as the featured guest for Minnesota Twins Night on July 12.
Presented by Buffalo Wild Wings and KTOE, the night will start off with a pre-game autograph session from 5:30-6:30 p.m. at the Hill Top Buffalo Wild Wings location. Steinbach will make his appearance at Franklin Rogers Park to toss out the first pitch, photo opportunities and additional autographs.
Wally "The Beer Man," Sue Nelson the Twins organist, and Twins mascot T.C. Bear will also be along during the MoonDogs and Rochester Honkers battle.
Selected in the 1983 MLB Draft by the Oakland Athletics, Steinbach spent 11 years in the league before coming back home where he played three of his most memorable years as a Twin (1997-99).
Throughout his 14 years in the majors, Steinbach was a three time All-Star selection, the 1988 All-Star MVP, and a 1989 World Series champion. The New Ulm, Minn. native won three straight American League Pennants, and caught a total of two no-hitters, all while recording a statistics line of a career batting average at .271, 162 home runs and 745 runs batted in.
"He's a player we have wanted to bring in for a while. We're very fortunate the opportunity presented itself," said MoonDogs General Manager Kyle Mrozek. "It's great to have arguably one of the biggest baseball players to come out of Southeastern Minnesota. The fact he is coming to Mankato is fantastic."
Steinbach had the pleasure of finishing his career as a Twin in 1999, and continues to be a role model for Minnesota baseball fans, especially in New Ulm.
"Steinbach is a big influence on young kids and is someone we look up to," said former MoonDog and New Ulm native, Garrett Fischer. "It works as motivation having someone from your hometown that has played in the majors. It makes us believe that anything is possible."
The MoonDogs will take on the Rochester Honkers on Twins Night with the first pitch scheduled for 7:05 p.m. Season and any single game tickets can be purchased at the MoonDogs office located at 1221 Caledonia Street. For more information visit our website at www.mankatomoondogs.com or call the MoonDogs office at 507-625-7047.