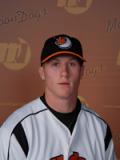 MANKATO, Minn. (July 3, 2012) – Mankato MoonDogs center fielder Cody Ferrell (Oklahoma City) earned Northwoods League Player of the Night for Tuesday, July 3.
Ferrell was 5-for-5 with four RBI and four runs scored for the MoonDogs in their win over the Waterloo Bucks. In the bottom of the fourth inning, Ferrell recorded his first home run of the season with a two-run shot. In the bottom of the eighth, he'd get his second with a solo home run to left field.
The MoonDogs won the game 15-9. Mankato will host Waterloo again on Wednesday for a 6:05 p.m. game.