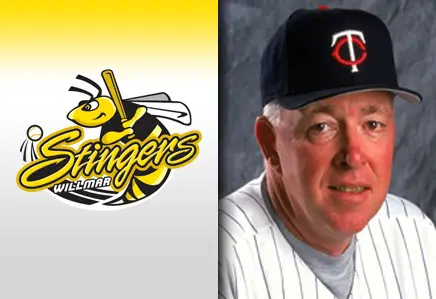 WILLMAR, Minn. (June 28, 2012) — Two-time World Series champion manager Tom Kelly will throw out the ceremonial first pitch prior to the Willmar Stingers game against the Duluth Huskies as part of "Minnesota Twins Night".
Minnesota Twins Night with the Stingers is presented by Erbert & Gerbert's and KDJS 1590AM and will begin at 7:05 p.m. on Thursday, July 26 at Bill Taunton Stadium.
Kelly, who managed the Twins from 1986-2001, led the team to the 1987 and 1991 World Series titles and is scheduled to have his number retired by the organization on September 8. Kelly began his association with the Twins in 1971 when he signed a contract as a player with the Twins' AA-affiliate, the Charlotte Hornets.
Twins Night will also feature team mascot TC Bear and organist Sue Nelson. The first 250 adults will receive Comet Cash from Erbert & Gerbert's.
Kelly will be on hand to throw out the ceremonial first pitch and sign autographs for Stingers fans beginning at 6 p.m. Kelly made his Major League debut with the Twins on May 11, 1975, and played 49 games with the team. Kelly's managerial career began in 1977 when he served as a player-manager with the AAA Tacoma Twins. His first full-time managerial job came with the Twins' single-A affiliate, the Visalia Oaks. He joined the Minnesota Twins' coaching staff in 1983 and became the 11th manager in team history in 1986.
Kelly enjoyed immediate success leading the Twins, claiming two World Series Championships in his first six years (1987 and 1991) at the helm and earning American League Manager of the Year honors in 1991. He finished his career with 1,140 wins in 16 seasons with the Twins and is still the longest tenured manager in franchise history. He remains employed with the Twins as a special assistant to the general manager.
Tickets for Minnesota Twins Night with Tom Kelly are available online at www.willmarstingers.com or by calling the Stingers Ticket Office at 320-222-2010. The 2012 season is presented by Charter. For more information on your Willmar Stingers be sure to visit the West Central Tribune at www.wctrib.com.