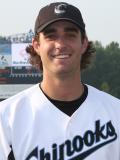 EAU CLAIRE, Wis. (July 4, 2012) – Lakeshore Chinooks left fielder Charlie Markson (Notre Dame) earned Northwoods League Player of the Night for Wednesday, July 4.
Markson was 5-for-6 at the plate with four RBI and two runs scored for the Chinooks. He picked up his second home run of the season on a solo shot in the top of the seventh inning.
The Chinooks won the game 12-4. The Chinooks will host the La Crosse Loggers on Thursday beginning at 6:35 p.m.