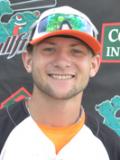 WISCONSIN RAPIDS, Wis. (July 5, 2012) – Green Bay Bullfrogs left fielder Brooks Orton (Texas State) earned Northwoods League Player of the Night for Thursday, July 5.
Orton was 5-for-6 at the plate with two RBI and four runs scored for the Bullfrogs. Orton would record his first home run of the season in the top of the sixth inning and his second of the year in the top of the eighth. He also picked up his sixth stolen base.
The Bullfrogs won the game 10-2. Green Bay will host Wisconsin Rapids on Friday beginning at 7:05 p.m.