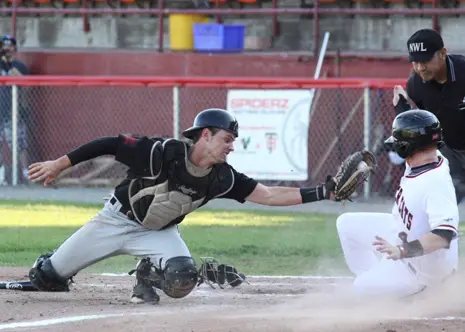 ROCHESTER, Minn. (July 5, 2012) – A couple of extra inning games and a complete-game shutout for one pitcher in Mequon, Wis., highlighted Thursday's action.
Thunder Bay 4, Mankato 5
Chad Christensen (Nebraska) was 2-for-4 with three RBI and a run scored for the MoonDogs in their win over the Border Cats. The MoonDogs will host the Border Cats again on Friday at 7:05 p.m.
Rochester 6, Duluth 4
Ty McDevitt (Minnesota) came out of the bullpen for the Honkers and worked 4.2 innings and allowed just one run and struck out seven. The Honkers will be hosted by Duluth again on Friday at 7:05 p.m.
Green Bay 10, Wisconsin Rapids 2
Brooks Orton (Texas State) was 5-for-6 at the plate with two RBI and four runs scored. He also recorded his first and second home runs of the season. These two teams will meet again on Friday in Green Bay for a 7:05 p.m. start.
Willmar 14, Waterloo 13 (10 innings)
Waterloo refused to go away as they scored nine runs in innings seven through nine to tie the game and send it to extra innings. After Willmar scored two in the top of the tenth for the 14-12 lead, the Bucks were only able to get one more in the bottom half. Hunter Dozier (Stephen F. Austin) was 3-for-5 with four RBI. The Bucks will host the Stingers again on Friday at 6:35 p.m.
La Crosse 7, Lakeshore 0
The Loggers were led by the brilliant pitching effort of Scott Schultz. Schultz threw a complete-game shutout, walked none and struck out six. The Chinooks and Loggers will meet again on Friday for a 7:05 p.m. start.
Eau Claire 4, Madison 9
Derek Fisher (Virginia) was 2-for-4 with four RBI and a run scored at the plate to help the Mallards to victory. The Mallards will host the Express again on Friday at 7:05 p.m.
St. Cloud 9, Alexandria 8 (10 innings)
Adam Maxon (Jacksonville) worked out of a bases loaded jam and picked up the strike out to seal the win for the Rox in the bottom of the 10th inning. St. Cloud and Alexandria will play again on Friday in St. Cloud at 7:05 p.m.
Battle Creek 1, Wisconsin 9
The Woodchucks were led by Brad McKewon (Creighton) who was 2-for-4 at the dish with two runs scored and four RBI. The Woodchucks will host the Bombers again on Friday at 6:35 p.m.