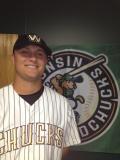 WAUSAU, Wis. (July 7, 2012) – Wiscosin Woodchucks starting pitcher J.D. Davis (Cal State Fullerton) earned the honor of Northwoods League Pitcher of the Night for Saturday, July 7.
Davis threw seven innings and allowed just one earned run on three hits. He also struck out 10 Battle Creek batters. He is now 3-0 on the season with a 2.74 ERA.
The Woodchucks won the game 4-2. The Woodchucks have Sunday off.