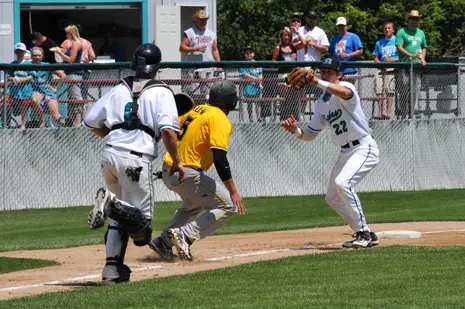 ROCHESTER, Minn. (July 8, 2012) – Willmar bats stayed hot as they jumped all over Rochester pitching and the Huskies and Rox played yet another tight game in Sunday's action around the Northwoods League.
Waterloo 8, Mankato 10
The MoonDogs put up five runs in the bottom of the seventh to take the 10-7 lead and never looked back. The Bucks will host the MoonDogs on Monday at 6:35 p.m.
Willmar 16, Rochester 9
The Stingers scored at least two runs in six of nine innings, tallied runs in eight of the nine innings and knocked out 20 hits. Hunter Dozier (Stephen F. Austin) recorded his fourth and fifth home runs of the season to help the Stingers. The Honkers and Stingers will meet again in Rochester on Monday for a 7:05 p.m. start.
Alexandria 2, Thunder Bay 7
Phillip Lyons (Nicholls State) was 3-for-4 with an RBI and three runs scored for the Border Cats in their win over Alexandria. Thunder Bay will host the Beetles on Monday at 7:05 p.m. ET.
St. Cloud 5, Duluth 6
The Huskies were led Luke Campbell (New Mexico) was 3-for-5 with two runs scored. The Rox will host the Huskies on Monday with the first pitch scheduled for 7:05 p.m.
Battle Creek 6, La Crosse 1
Cole Swanson (San Diego State) threw 5.2 innings, allowed one run on one hit and struck out six to earn his first win of the season. The Loggers will host the Bombers again on Monday for a 7:05 p.m. start.